Vendors plying their trade in the various markets around Georgetown on a daily basis continue to complain about the failure of City Hall to meet some of their basic infrastructural needs.
Many of them argue that they are paying large amounts of rent on a monthly basis but their simple maintenance problems are not being addressed.
However, according to Georgetown Mayor Hamilton Green, while all of the markets around Georgetown need re-planning, they require "technical skills and a competent administration, something which we don't have. We have asked (Town Clerk) Carol Sooba over two years ago to put up plans for the markets but we have not seen anything to date."
Over the years, the state of the various markets has deteriorated so significantly that one has been dubbed a "fire hazard" by the Guyana Fire Service.
During a visit to the various markets recently, it was quite evident that infrastructural work, among other things, are greatly needed. While many of the vendors were vocal about the problems they face, others preferred not to say anything, since, according to one, "there is no point in the media coming and highlight we problem every year and we nah seeing no progress."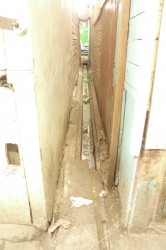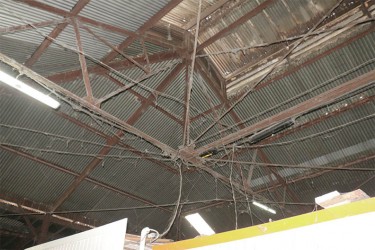 One food vendor inside the Bourda Market complained that garbage is one of the major problems affecting vendors. "Come on Monday morning at 8am and yuh gon see wah does go on. The garbage does be nuff nuff," she said.
The woman did not want to be named out of fear that her stall might be taken away and said that flooding is another major issue in the market. "Lil rain it flood, nuff rain it flood and when this rain flood, it does be stink bad. I does try to do ah thing because I ain't get nowhere else to go," she said.
Another vendor, Rakesh, told Stabroek News that the market has "lots of flooding and what we want is for the market floor to be raised. We ask the people at City Hall if we could tile the market and they said we have to wait for the engineer," he said. "All wah Sooba and Green doing is fighting for power but they need to do something. We need betterment at Bourda. They need to come and see what poor people feeling," he added.
Another problem he spoke about was vendors selling meat products outside of the market. "They [vendors] does be selling meat and fish outside of the market and it is not healthy for consumption. A lot of them does be selling right next to garbage dumps. Them thing can't be right man," he complained.
At the Stabroek Market, garbage, water woes, break-ins and washroom facilities were some of the problems that vendors said they have to deal with, all while trying to win business in the very competitive market. "I does try to keep around by me stall clean, but them vendor from outside the market does send them junkie with garbage to dump right next to me stall," one vendor said.
According to another vendor, "It does be hard a lot of days cause yuh got like 40 ah we selling the same thing and when yuh look at the garbage and the other problems around here we does want know if these people don't shame to charge we all this money and simple things they does can't fix fuh we. Look at the roof in this place how it nasty and don't even talk about the toilet them. We does got to go over by KFC and use they own nuff time because these toilets here ain't fit for people to use. They does be nasty and most of the time there is no running water," he said.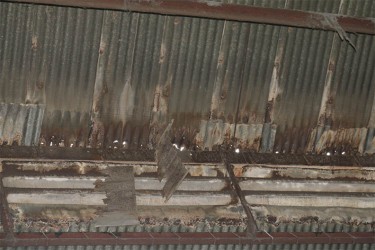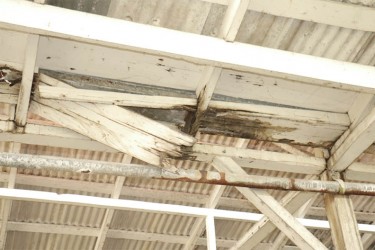 Ramesh, who has been selling at the Stabroek Market for several years said that his family has suffered several break-ins over that period. "We does get fed up but what else can we do? We have to make a living and this is the only way we know how," he said.
"This market top like a strainer", was how one stall holder described the roof of the La Penitence market.
Pointing to a rotten post in the market, another vendor said that they have made several complaints about it but to no avail. According to another stall holder who declined to give his name, "We get so accustomed to the condition so that when things have to be done, we go ahead and do it. If pipes got to be run, we do it. Recently we bought a wheelbarrow to help the constables with the sanitation because not even that they can afford." He also said that the washrooms are in a deplorable condition.
"Every single thing is a problem in the market. City Hall is the most corrupted place in this country and they always with some fighting but not doing anything to help us," he said.
Labelled a fire hazard by the Guyana Fire Service, the Kitty Market houses more than 140 stalls but has an occupancy of less than half that number. It once boasted a multitude of meat, grocery and greens stalls but is now a "horror house" according to one vendor.
Recently, a source close to City Hall told Stabroek News that about $80 million is expected to be injected into rehabilitation works at the market.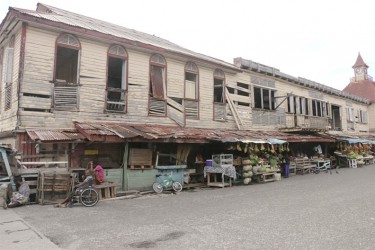 One vendor when asked why she does not relocate given the present condition of the market and the fact that it may collapse at any time said, "God is love, it nah gon fall down." According to one stall holder, "I ready fuh it collapse anytime because I just fed up." Another vendor who said that his wife was a "second generation vendor" at the market said that it was sad to see the market in its present state knowing what it was before.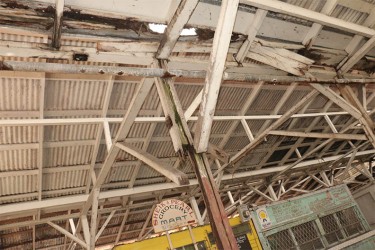 "I know this market since I was a little boy growing up when it had an active community centre, rates and taxes centre and vector control office upstairs that used to not only benefit Kitty residents but other nearby communities," he said. "During the 1992 elections, upstairs had a polling booth at the end for voters in Kitty. This market was everything back then," he added.
Asked why the remaining vendors do not move to a better location, he said that they need to "pray a little more each day before we come out and sell."
"We stay partially because we still have hope that something good will be done. If everybody give up this market is going to be sold to New Thriving because that is what the Mayor had said," the man asserted. Green, however, refuted this when quizzed on Saturday. It is "madness. No such thing was said to those vendors," he said.
Meanwhile, the vendor added that the history of the market extends way back. "This market was donated by the village fathers of Kitty and Burnham tek it away and that is how it turn government property. This place was really nice back in the day, now it is like a ghost town," he remarked.
"One time it was raining and I went to go to the (person in charge) of the Market inside and she sit down under an umbrella inside because the roof was leaking and she was getting wet. She in the same problem like we. I just feel sorry for she and I left," the vendor said.
Around the Web