Two persons have been seriously injured following a hit-and-run accident yesterday at Columbia Village, Essequibo Coast.
According to reports, at around 4:15pm, a man who was reportedly under the influence of alcohol crashed the car he was driving into a parked car.
This newspaper was told that Menere Khan and her husband Danny Latchman were sitting in the car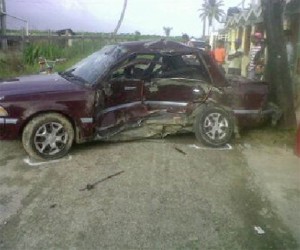 that was parked in front of their home when the incident occurred.
"The car been speeding and just suh it crash into the next one.
Me nah think nobody went in the car only the driver and he de look drunk.
People run out fuh tek out the people that been in the next car and rush them to de hospital," one eyewitness said.
The driver of the car, who appeared to be under the influence of alcohol, fled the scene in another car.
Up to press time, Khan and Latchman, who were rushed to the Suddie Public Hospital were in a critical condition.
The police are investigating the matter.
Around the Web