Home Affairs Minister Clement Rohee yesterday denounced renewed calls for his resignation as attempts to bait him, while attributing delinquency in the police force to a lack of training.
He said APNU's renewed call for his resignation showed lack of insight on the part of Opposition Leader David Granger.
When asked by Stabroek News what his stance was on the calls for his resignation, Rohee responded, "It doesn't upset my breakfast, my dinner, nor my lunch. In fact, I eat more heartily."
He joked, "It gives me great joy and satisfaction and I wish he [Granger] could call for my resignation every single day."
He continued that he was pleased to be a bee in the bonnet of Granger adding that the renewed calls for him to go proved he was doing his job. Rohee said the opposition was attempting to bait him into responding like he was the Commissioner of Police which would give credit to the criticisms.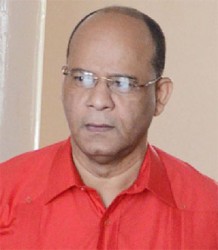 Stabroek News enquired if the reason behind the most recent calls for his resignation – road fatalities and crimes resulting in numerous deaths did not in fact upset his stomach, but failed to evoke a response.
Rohee had, earlier during the press briefing held at Freedom House yesterday, said that the delinquencies in the police force has to do with a lack of training. "You can only recruit from the society. You have to take what the society offers to you… [if] the academic levels you are asking for are of a very low standard then eventually it will show up," he said. The minister said he was charged with giving direction in relation to policy. However, the Commissioner of Police and his staff would have to translate policy into effective policing.
He reiterated that he has never provided operational direction to the police force and that was never his intention.
Rohee noted that the various indiscretions by members of the police force are committed by "constables or the sergeants and in some exceptional cases the cadets" and rarely by those in khaki. While he acknowledged the lack of training and that as minister he would need to provide an overview of policy, Rohee steered clear of even hinting what will be done to correct the numerous deficiencies in police interaction with the public.
He said that the opposition's calls for his removal stem from a lack of understanding and while the media refers to Granger as a security expert there is no foundation in that notion and that possible motivation may be to encourage political interference at the police level.
Following a fatal road accident, APNU on Friday repeated a call for President Donald Ramotar to revoke the appointment of Rohee. According to Granger, the biggest contributory factors to fatalities have been the lack of effective ministerial direction, lax law-enforcement and dangerous driving habits.
Around the Web