Haydock Baxter was yesterday sentenced to 20 years in prison for killing his wife Carol Baxter in 2006.
Justice Dawn Gregory handed down the sentence in the High Court, where Baxter,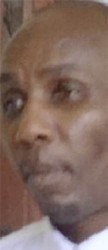 who was charged with murder, pleaded guilty to the lesser count of manslaughter on June 3.
He is said to have attacked his wife outside of the Georgetown Prison, stabbing her several times after she refused to go with him to sign divorce papers on October 20, 2006.
With the sentence starting at 30 years, the judge took off two years for the guilty plea and eight years for the time that Baxter had already spent in prison.
During an interview with Stabroek News before her passing, Carol said she went to the prison to visit her son and was standing outside of the building when she was approached by the man. She said he approached her for a divorce and she told him she would go with him to sign the papers but only after she saw her son and gave him food.
Carol said the man got angry and pulled a knife from under his clothes. She stated that when she saw the knife she ran but he pursued her, stabbing the back of her neck and her shoulders. She said bystanders immediately ran to her rescue and stopped him. She was later rushed to the hospital in a prison van. Carol died four days later in the Georgetown Public Hospital.
Baxter was represented by defence attorney Hukumchand while the state's case was presented by attorneys Natasha Backer and Mercedes Thompson.
Around the Web