Another one of the Surendra Engineering pumps was commissioned yesterday at Patentia, West Bank Demerara with a final cost of $265 million.
The pump is one of fourteen supplied by Surendra under a contract from 2011. According to Senior Civil Engineer attached to the Agriculture Ministry, Frederick Flatts, the project was originally budgeted at $237 million. The pump has a capacity of 150 cubic metres per second. In May, President Donald Ramotar commissioned one of the pumps at Rose Hall where the cost was stated as being $37 million for the 120 cubic metres per second capacity pump. The disparity between the two figures was not explained yesterday.
Speaking to the media prior to the commissioning, Head of the National Drainage and Irrigation Authority (NDIA), Lionel Wordsworth, said that the complete cost of the civil works was also not known and that he would need to gather those figures.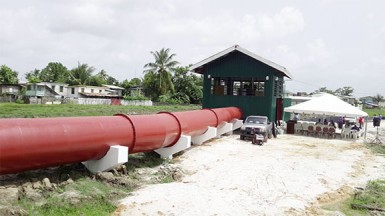 When asked by the media if the final cost of the Patentia pump station had ballooned because of issues with the contractor, he said that the civil works were all done through competitive bidding.
Stabroek News asked about the other pump stations that have had all works completed and was told that works were ongoing. This newspaper asked how many of the Surendra pumps were to date finished and operating. Wordsworth said he only wished to say the following "at the moment there is installation taking place in Canje, down at (No.) 66 (Village) and at Paradise installation and very shortly we will do installation at Bagotville". He continued that work is also ongoing at Windsor Forest and that as of July 1, 2014 tenders were closing on five other site locations. He did not provide information on those proposed sites.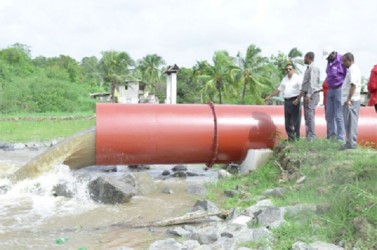 The Patentia pump is one of eight fixed pumps. Surendra Engineering had also been responsible for the supply of six mobile pumps. Wordsworth said that to date mobile pumps were being used in Mibicuri, Black Bush Polder, Corentyne and Three Friends, Essequibo Coast while another one was given to Region 6. The NDIA head did not give an account for the other three mobile pumps. He did however tell the media that all of the pump components were in Guyana. Comprehensive information on the Surendra contract has been hard to come by.
During his address at the commissioning, Wordsworth revealed that the NDIA does have issues stemming from persons making cuts to the embankment where work was done to the conservancy and the savannah embankment.
Minister within the Ministry of Agriculture, Ali Baksh said that the amount of work done to ensure the free flow of water from the backlands made the expenditure on the pumps effective. He did state that in the future, greater financial support will be necessary for the rehabilitation of drainage systems. He said that not only would Guyana need support from intergovernmental agencies but also Guyana will need to devote more money internally.
Flatts had stated that for the Patentia pump, various culverts and channels were re-established to assist with drainage to the pump station. The pump will work in conjunction with the sluice to allow for 24- hour drainage if necessary. Given the pump location, the Guyana Sugar Corporation will be charged with the management and operation of the pump. (Pushpa Balgobin)
Around the Web