Tears flowed freely in court yesterday as sentences were handed down for the jointly-charged quintet in the July 12, 2011 multi-million-dollar Bel Air Gardens armed robbery committed on Annie Ramsood; they had been found guilty on Wednesday.
Jermaine Mitchell, Rayon Jones, Chandrada Rampersaud (Ramsood's mother), Aubrey Simon, and Hardat Kumar (Ramsood's cousin) were sentenced to a total of 54 years imprisonment, but most of the sentences will run concurrently.
Mitchell will spend the longest time in jail, having been sentenced to 16 years imprisonment; four years each for two counts of armed robbery and four years each for possession of an unlicensed firearm and ammunition.
Chief Magistrate Priya Sewnarine-Beharry who handed down the sentences explained to the court that Mitchell's sentences will run consecutively.
Simon will spend four years in prison and was also fined $1 million. His sentences, which will run concurrently, were four years each on two counts of armed robbery and two years along with the monetary fine for knowingly making a fraudulent imitation by attaching a false number plate to a vehicle.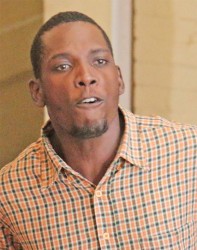 Meanwhile, the other three defendants—Jones, Rampersaud and Kumar—will each spend four years in prison.
They were sentenced to four years each on two counts of armed robbery but their sentences will run concurrently as well.
The jointly-charged quintet was found guilty of two counts of armed robbery. The first charge stated that on July 12, 2011 at Bel Air Gardens, being armed with a gun, they robbed Annie Ramsood of $1.4 million and US$29,000 ($5.8 million) all totalling $7.2 million
Additionally, they were further found guilty of robbing Ramsood of a BlackBerry cell phone and a quantity of cash valued $427,000, while being armed with a gun.
Mitchell was found guilty of having in his possession one 9 mm pistol and eight rounds of 9 mm ammunition without a firearm and or ammunition licence.
Simon was found not guilty of possession of an unlicensed firearm and ammunition but guilty of knowingly making a fraudulent imitation by attaching a false number plate to a vehicle.
Silence prevailed in the courtroom as the sentences were being read; each defendant paying keen attention as the magistrate disclosed his fate.
However, when Magistrate Sewnarine-Beharry got to Rampersaud's sentence and she learned that she would spend the next four years behind bars, the woman was overcome by grief and cried uncontrollably as she was being escorted out of the courtroom.
The other defendants by this time had tears settled in their eyes. Mitchell exchanged a kiss with a tearful young woman as he was being taken to the chute and in tears he encouraged her to "stay strong baby," assuring her that "everything will be alright."
The public gallery of the courtroom had a sizeable number of mostly relatives of the defendants.
Magistrate Sewnarine-Beharry informed the defendants that the court had taken both the aggravating and mitigating circumstances into account before sentencing.
She explained that in the case of Mitchell, the court had found that he was in possession of an unlicensed gun and a quantity of unlicensed ammunition in addition to having committed the two counts of robberies. The court noted that the possession charges were separate and distinct charges and also attracted separate penalties.
Additionally, the court said, it took into account the seriousness and prevalence of the offences Mitchell had committed and that a gun was used with which he had threatened to "blow off" the complainant's head; her children who are of a tender age remain traumatised by this.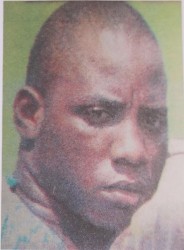 The court said it found too that Mitchell had a clear intention to use the weapon and that he had shot at police who attempted to apprehend him and his co-conspirators. The court considered also the quantum of cash and items stolen which exceeded $7 million and said that the crime was premeditated and carefully orchestrated.
The magistrate said the court takes a serious view of such offences noting the need to deter potential offenders.
As regards Simon, the court said he was fined for wilfully attaching a fraudulent imitation of a number plate to the vehicle used in the commission of the crime, a clear intention to conceal identity.
Simon had absconded during the trial after being admitted to bail. He was sentenced in his absence.
Jones was sentenced for his role in the robbery as being a co-conspirator and a party to the crime.
Meanwhile, Kumar and his aunt were reprimanded for carefully orchestrating the commission of the crime and breaching the family trust of the complainant.
The court said it found that Rampersaud was the mastermind behind the offence and that her actions placed her daughter and grandchildren in danger.
The court pointed out that the defendants were unremorseful and that given their ages they are taken to know the consequences of their actions.
In mitigation the court considered that they had all spent an average of about five to six months on remand and that they had dependents. Mitchell, 23, is the father of a six-month-old child, while 22-year-old Jones has a one-year-old child. Kumar, 33, has two minor children; while his aunt, 53-year-old Rampersaud, said she has a 17-year-old daughter who is dependent on her.
Meanwhile, in an interview with this newspaper after the sentencing, Ramsood expressed satisfaction, stating "justice has been served."
The woman said that her family, especially her children, had suffered greatly because of the incident.
When asked to express her sentiments about her mother's involvement in the robbery and her imprisonment, and whether she felt sorry for her, Ramsood said, "No, I am not sorry for her. The law has taken its course."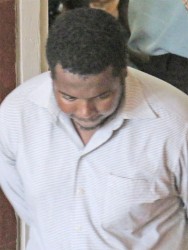 The woman explained that her mother should have protected her and her grandchildren but instead allowed her nephew and other strangers to invade her home and commit the crime.
The defendants were found guilty on Wednesday but sentencing had been deferred to yesterday to facilitate the presence of defence counsel George Thomas, who was expected to provide the court with mitigating factors for his client Jones.
However, when the case was called yesterday, Thomas was again absent.
When asked about his lawyer's whereabouts, Jones told the court that he had spoken to him after Wednesday's hearing and counsel told him he was aware and would have been in court for yesterday's ruling.
But Jones said that on his arrival at court yesterday he did not see his attorney and could not say whether he would be present or not.
The defendants, who, with the exception of Simon, were all present in court on Wednesday appeared visibly shocked on being told by Magistrate Sewnarine-Beharry that the court had found them guilty and as such they would be remanded to prison.
They were remanded overnight for sentencing yesterday.
They were all on bail up until the court's decision was handed down and appeared unprepared for it and surprised that they would not be leaving the court compound in the manner with which they had entered.
In addition to Mitchell, Jones, Rampersaud, Simon, and Kumar, two others, Rabindranaught Seemangal, and Shawn Hinds were also charged with the robbery.
However, in 2012, Hinds was cleared of the charges against him.
Meanwhile, on September 11, 2012 Seemangal was sentenced to eight years imprisonment after pleading guilty to the charges.
He had initially pleaded not guilty but later changed his plea stating that he committed the robbery because he had two babies and his wife to maintain and no job to do it.
Attorney-at-law Glen Hanoman was appointed Special Prosecutor in the matters.
The cases were heard at the Georgetown Magistrates' Court.
Around the Web