Although charging that the electoral process at the PNCR's just-concluded 18th Biennial Congress was "manipulated" to ensure the re-election of leader David Granger, party stalwart Aubrey Norton yesterday said he was prepared to work with fellow members to craft a strategic plan that could serve as the base for a general elections victory.
Norton also said despite "intentional" efforts by some fellow party members to "malign" him, he remained a committed member of the party and will continue to speak out against practices in its system with which he disagrees. Norton pulled out of the running to be the party's leader during the Congress last weekend, citing a flawed electoral process, resulting in Granger's unopposed re-election. He had also said that he and his supporters were abused and that these realities had forced him, for the first time since joining the party in the early 1970s, to consider his future with the party.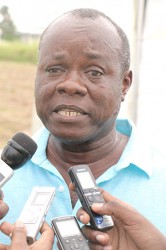 Such talk led to speculation that Norton would quit the People's National Congress Reform (PNCR). And, since Norton is credited to a large extent with mobilising Region 10 for the PNCR, there was further speculation that the Linden's allegiance to the PNCR was in question, despite contentions that Norton does not enjoy the support of the majority of the region's population.
At a press conference yesterday, however, Norton said the events which played out over the weekend, though unfortunate, have done nothing to bring him to sever his membership with, and commitment to the party.
Norton does not believe that any actions he took caused the party to be projected in a negative light. He said that the actions he took were peaceful, but admitted that things escalated due to conditions created by some persons in the party. He says that though his own party sought to malign him for speaking out against things he disagreed with, he will remain committed and faithful.
He also said it is time for the PNCR to move on. He contended that his opponents did not offer a plan to the party but he did. "They took the outdated political approach of maligning me. I forgive them and invite them to let us put in place a plan for the PNCR," he said, while noting that he has argued that the party needs a strategic plan aimed at producing quality middle-level leadership that is committed to democracy and the party and would be the base of an electoral victory. "I invite the party leadership to become inclusive and give the Guyanese people hope," he added.
Leadership can't take criticism
He nevertheless lamented what he sees as the inability of his party's leadership to accept challenges and dissenting opinions with maturity. Similar sentiments were offered by PNCR member Carl Greenidge following the party's elections on Sunday.
Norton told reporters that he has always spoken openly on what he thinks is right irrespective of whether his positions found favour with other party members, including its leaders. He has noticed, however, that political parties in Guyana, the PNCR included, "leaders cannot accept that and that has been a problem."
Though Norton was made the party's General Secretary under former President and party leader Desmond Hoyte, he admitted that they did not see eye to eye all the time. He also said that when Robert Corbin took the party's reins from Hoyte, he never hesitated to point out to the new leader approaches with which he disagreed. Norton's disagreements continued under returned leader David Granger.
In 2010, Norton supported Winston Murray in his bid against Granger for the PNCR's presidential candidate ahead of the 2011 general elections. Murray was widely popular and drew support from many others, including Greenidge and Dr. Richard Van-West Charles.
Murray died before the elections though, and Greenidge took his place. Greenidge also enjoyed the support of Norton, who believed and still holds that separate individuals should hold the positions of party leader and presidential candidate. He said he also believed that an economist would be ideal to manage the country. Greenidge eventually lost out to Granger.
Norton said yesterday that "it must have affected Granger that I supported Greenidge," and emphasised that mature political leadership should accept differing views. He added that party members should be allowed to disagree as opposed to demanding total agreement as is the current reality.
Norton pointed out that after his pick for the presidential candidate lost, the PNCR asked him to work to help deliver Region 10, which he did.
Flawed system
Norton yesterday again took swipes at the election process which obtained at the Congress and those who were tasked with its management. He told reporters that the flawed nature of the process is largely due to the fact that the Accreditation Commi-ttee was not properly established.
Returned PNCR Vice-Chairperson Volda Lawrence said on Sunday night that logistical factors prevented the committee from meeting as planned. She said the members of the committee did its work via emails and telephone conversations.
Region 10 Regional Democratic Council Chair-man Sharma Solomon, who is also claiming the process was flawed, has said publicly that the work required of the committee could not have been done efficiently through the mediums stated by Lawrence.
When Solomon's contention was put to Lawrence and PNCR General Secretary Oscar Clarke during a press conference on Wednesday, they suggested that Solomon is aware of the magnitude of work that can be done via mail.
The perception that attempts were afoot to disenfranchise persons from Linden prompted a protest by Lindeners at Congress Place on Saturday. On Sunday, chaos broke out again after several Lindeners were not allowed to vote since they were not accredited.
Clarke is saying that Solomon submitted lists with persons who were not allowed to vote. Solomon, on the other hand, says all of the names submitted qualified for accreditation.
Norton yesterday reiterated his contention that the accreditation process was flawed and pointed out that problems with the delegates list were not restricted to Region 10. "…The problems emerged because of the manipulation of the process to ensure the reelection of the incumbent leader Mr David Granger," he charged, while claiming that while his supporters were pushed around, those considered supporters of Granger were able to get their delegate cards from Clarke's office.
He added that the blame for the situation must be placed squarely at the feet of Clarke and the party leadership. He noted     complaints by Vincent Alexander, Winston Murray and Carl Greenidge about the electoral process at the previous congresses and he said the "common denominator in all has been Mr Oscar Clarke and the flawed process he presides over." As a result, he said the solution lies in fixing the party's electoral system and making it fair, transparent and void of manipulation.
Norton also yesterday denied any links with the PPP, in light of suggestions by his opponents that he was the preferred leadership candidate of the ruling party. The source of Norton's financing for his campaign had even been called into question by Clarke, Lawrence and other senior members of the PNCR. Norton, however, said that his entire campaign was financed by party members and supporters across the country. He said that he travelled to the various regions and attracted supporters who then sought to back his campaign in whatever way they could.
"I never had or intend to have any relationship with the PPP. The things I am compelled to fight in the PNCR are secondary in comparison to excesses, corruption and discrimination that characterize the PPP. However, I believe that the PNCR must become the symbol of good governance and decency in Guyana and therefore I will continue the struggle for a democratic and accountable PNCR. I believe an opposition party must be an example and operate in opposition the way it intends to operate in government," he said.
With regard to allegations that his supporters were abused, Norton said he sought to engage Granger on the issue. He refused to say exactly how Granger responded to his complaints but suggested that it was not favourable.
Around the Web