Fishermen and fishing boat operators in the East Bank Essequibo (EBE) area are calling on the relevant authorities to take action against persons who are destroying their seines and costing them millions of dollars in losses.
The fisher folk have identified persons from a West Coast Demerara village as being responsible but say that police are not acting.
The latest attack occurred on Wednesday night, just off the Coast of Wakenaam, Essequibo Coast, where the seines for two fishing vessels owned by Zeelugt resident Kumar Persaud were badly damaged. Each seine cost $1.5M.
Ravi Ramana, who is a captain of one of the fishing boats, told Stabroek News that those responsible came in four boats and used cutlasses and knifes in the attack. It was explained that the culprits, who use smaller fishing vessels, are engaged in illegal fishing and it is believed that they are seeking to put him and other operators out of business. He said that over 30 registered boats work in this area.
Ramana said that when they confronted the attackers about the damage that had been done, the men threatened them. He said that they returned Zeelugt foreshore on Friday and immediately reported the attack to the Leonora Police Station.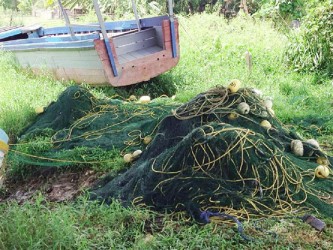 The distressed fisherman, who said that the sea is his livelihood, noted that in the company of a female corporal he and other fishermen visited the home of one of the culprits but when they arrived the threats continued. The police rank, he said, did nothing to resolve the situation and a message was left that those being sought were to report to the station.
Ramana is fed up because of the frequency of the attacks and he added that despite efforts they are not getting any help from the Ministry of Agriculture.
He said that after the latest episode, he and others are being told that the police cannot do anything and that officials from Fisheries Department of the Agriculture Ministry had to deal with the matter. He said that when they contacted an official of the department, the man said that he was in Berbice and would meet with them on Wednesday.
"We are afraid to go back out. We want de ministry to intervene," he stressed adding that in light of what has now transpired he will be out of work for a few days, which is a huge blow since he has bills to pay. "We don't know what we gon do between now and Wednesday. We want them to come early and tek steps because we frighten to go back out deh," Ramana added.
Meanwhile, a boat owner stated that some of the seines that are damaged can be patched but this will take many days to fix. It costs $5,000 a day to get this done, he said, adding that unless their damaged seines are fixed or replaced they cannot work.
An upset Persaud told Stabroek News that the entire situation is unfair since they are being inconvenienced and the authorities are doing nothing to help them.
He said that he has loans to pay and if he goes to the bank and says he is unable to meet his installments because someone damaged his seine they will not accept the excuse. He questioned what the fisher folk are expected to do in light of their present dilemma.
Persaud, who has been in the fishing business for some 25 years, said that he was also very disturbed at reports that the culprits threatened to chop up his workers.
Around the Web