The US Embassy's Youth Action Network (YAN) teamed up with visiting US military cadets on August 2 to refurbish a shelter for domestic violence victims.
A release from the US embassy yesterday said that under the theme: "Ready to Serve, Ready to Lead",  79 volunteers completed a beautification project at the facility for victims of domestic abuse run by the non-governmental organization Help and Shelter.
The YAN members joined forces with US military cadets from the Cultural Understanding and Language Proficiency Program (CULP), the Embassy's Humanitarian Assistance Program, US Peace Corps Volunteers, Embassy staff and shelter volunteers to undertake painting, gardening, and other maintenance work.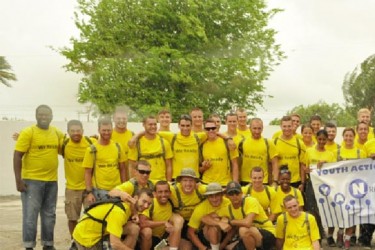 The project included painting the living quarters for the residents and the manager of the shelter and painting a section of the compound walls.
The release added that over the next month, shelter volunteers will enhance the walls with murals depicting positive messages for the residents. Volunteers also weeded the compound, cleared garbage, planted trees and assisted in the hydroponic greenhouse.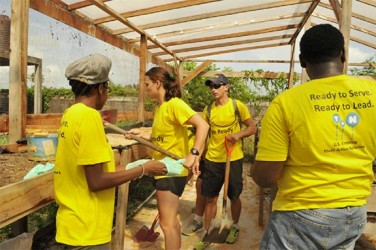 The release said that this service project reaffirms the US government's commitment to working with non-governmental organizations, the Government of Guyana, and its citizens to stop domestic abuse.
The US Embassy also applauded the board of directors of Help and Shelter in their work towards the elimination of all types of violence.
The release said that the Embassy's YAN gives motivated youths an opening to participate in networking and training activities to enhance their leadership skills and professionalism. They also have the opportunity to become involved in volunteer work.
Around the Web