Education Minister Priya Manickchand and a team on Sunday consulted with the Region Seven community of Kamarang on the five-year Hinterland Education Improve-ment Programme (HEIP).
According to the Government Information Agency (GINA) Manickchand spoke to the residents at the Kamarang Primary School. GINA said that the HEIP is intended to reduce the inequality that exists between the coastal and hinterland regions (Regions 1, 7, 8 and 9).
GINA reported that the Kamarang residents said that there is need for the training of teachers in various areas. While applauding the government for the infrastructure that has been put in place, the residents want more teaching material for the nursery schools and for craft and information technology to be included as subjects in the secondary schools. GINA said that the residents have also asked the ministry to facilitate more consultations on the implementing of education policies and programmes.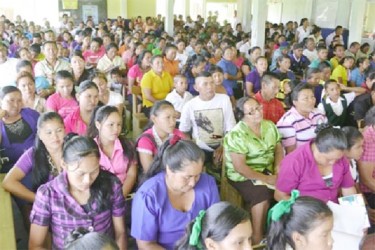 Manickchand said that the ministry will be reviewing these recommendations and incorporating them through the HEIP programme.
The Minister stated that "the only sustained way to do well and stay doing well is to invest in education", noting that 15.9% of the national budget was spent on the education sector last year. She said that having achieved universal primary education, the focus was now on secondary education.
She pointed out that a modern secondary school is being built at Kato in Region Eight and consideration is being given to building another in the Upper Mazaruni.
Also present at this HEIP consultation were Region 7 Regional Executive Officer, Peter Ramotar and Education Ministry Permanent Secretary Delma Nedd.
Around the Web