A six-member Medical Corps team recently partnered with students of the University of Guyana's Social Work Unit, to bring medical services to residents of Plaisance at the compound of the Plaisance Seventh Day Adventist Church.
A release from the Guyana Defence Force said that the students are members of the Social Work Theory and Practice Course, on UG's Diploma in Social Work programme.
Student and Group Leader, Carol Harding lauded the members of the GDF team, saying, "They dispensed their duties very professionally. During the Random Blood Sugar testing, they demonstrated that uniformed personnel could be warm and caring by helping several persons to be calm and allaying their fears. We were very happy with the collaboration, and, although we were expecting the dental team, the full participation and professional service of the team on the ground, eroded our disappointment."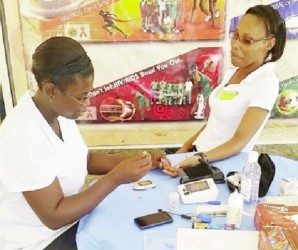 According to the release, Course Lecturer, Barbara Thomas-Holder said that, from the reports she received, the partnership with the GDF was definitely a very positive and productive undertaking.
Around the Web