Forty-two US military cadets recently completed a training course at the Colonel Robert Mitchell Jungle and Amphibious Training School (CRMJATS), as part of the Cultural Understanding and Language Proficiency (CULP) Program.
A release yesterday from the US Embassy said that under the guidance of the CRMJATS leadership, the cadets received training and familiarization on a broad range of survival skills.  This training phase ended with a 48-hour exercise that tested the cadets' mental fortitude, and personal courage.  The release added that the cadets had previously completed joint training with the Guyana Defence Force cadets at the Colonel John Clarke Military School (CJCMS) located in Tacama.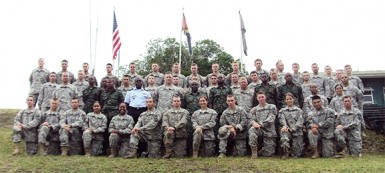 The release said that Guyana is hosting the CULP Program as part of the longstanding partnership between the Florida National Guard, the U.S. Army Cadet Command, the U.S. Embassy in Guyana's Security Cooperation Office, and the Guyana Defence Force (GDF).
The CULP Program seeks to build understanding, cohesion, and meaningful partnership between the next generation of U.S. and Guyanese military officers.  During the programme in Guyana, U.S. cadets live, work, and have cultural exchanges with fellow Guyana Defence Force cadets, as well as other elements of the GDF.
Around the Web