By Dacia Whaul
A woman died on the steps of her apartment yesterday after she was attacked by two pit bull dogs.
The security dogs that viciously attacked Jo-Anne Carter, 51 of Lot 232 Henry Avenue Lamaha Springs, belonged to her brother-in-law, Leslie Thomside, who may be charged.
Crime Chief Leslie James told Stabroek News that it is a possibility that Thomside, who is in police custody, will be charged. He, however, reiterated that investigations into the attack are still in progress.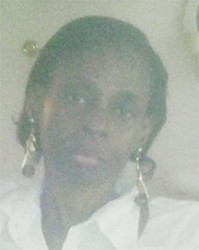 According to Carter's sister, Maria, the woman was found in a kneeling position on the steps of her apartment by Thomside, at 11:30am. She explained that Thomside had arrived at the house for lunch and met the dogs at the gate. They had blood across their maws. Thomside followed the dogs, thinking that they were fighting with each other, she added. It was not until he reached the back of the yard that he saw Carter motionless in a pool of blood and with bites all over her body. "She get bite all over," Maria told this newspaper, adding "one side eye fall out." She said that bloodied handprints were on the door to the apartment. "It was like she trying to get back into the house," she suggested.
A neighbour told Stabroek News that Carter had bites to the back of her neck, head, hands and legs. He said that Carter lost a lot of blood. Carter, who was mentally ill, had been living in her own apartment at the rear of the home of her sister and brother-in-law for about three months and she would be seen in the yard with the dogs, but never alone.
The neighbour noted that the woman would normally sweep the yard in the presence of the dogs. "She loved sweeping," Maria confirmed but she stated that Carter never ventured into the yard without either her or her husband close by.
Carter is survived by a daughter, Faith Austin.
Over the years, there have been a number of pit bull attacks, including at least one fatal case and others where victims have been left disfigured.
In April 2008, a pack of dogs, including pit bulls, Rottweilers and German Shepherds, attacked and killed 53-year-old security guard Charles Roopchand along the Ogle Airstrip Road, East Coast Demerara. The animals then turned on Desiree London, the wife of Bishop Philbert London and resident of Goedverwagting, East Coast Demerara, who was out for a morning walk. London was rescued by late former government minister Dr Dale Bisnauth who fended off the dogs with a stick. The owner of the dogs was charged with manslaughter but the charge was later dismissed.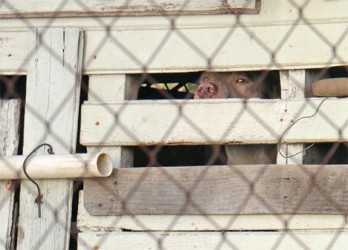 A month later, in May, 2008, three pit bulls escaped from their owner's yard in Forshaw Street and attacked a vagrant who was picking mangoes in an empty lot nearby, scalping him. The vagrant's scalp was reattached in an operation. Then in June 2008, at Oleander Gardens, pit bulls attacked their caretaker as he was about to feed them. And in November that year, a hybrid of the pit bull breed attacked a six-year-old girl in Hadfield Street after the child had ventured into a neighbour's yard.
In August 2010, pit bulls attacked an East Ruimveldt man, leaving him disfigured. It had been reported that the same group of dogs had previously attacked several persons who were mauled, including two Guyana Society for the Prevention of Cruelty to Animals workers, and had been ordered destroyed, but this was not carried out.
More recently, in June, a child from Linden had to be transferred to the Georgetown Hospital after he was badly bitten by a pit bull.
In June 2008, a magistrate ordered that a pit bull be put down after it attacked and injured a man in October of the previous year. The dog's owner, Vilton Bourne, was charged with suffering a ferocious dog to be at large and not muzzled. He was fined $15,000 or six months in prison after he admitted ownership of one of the two dogs that carried out the attack, which left miner/furniture manufacturer, Lennox Wade unable to use one of his hands. Wade had also suffered deep wounds and scratches to his legs, feet, back and neck during the early morning attack, which lasted for about 13 minutes.
Animal rights activists had criticised the ruling, saying that it is the owner that needed to be penalized not the dogs.
The ownership of this vicious breed of dogs has been the subject of debate for many years.
Some have argued that the dogs are violent only if they are bred to be, while others say the animals are just naturally vicious.
Around the Web