A motorcyclist died after colliding with a motor car on Tuesday afternoon at an intersection in Lethem.
Roger King Jr, 21, of Tabatinga, Central Rupununi, was pronounced dead on arrival at the Lethem Hospital, while the driver of the motor car was taken into police custody and is assisting with investigations.
According to reports, King was proceeding along Kanuku Drive when he slammed into a passing vehicle, after failing to stop at the intersection with Beverly Hill Drive. Eyewitnesses say that the biker was riding at such a fast pace that he was sent flying about 60 feet from the point of impact. The other vehicle was also driving at a fast pace and was only able to stop several feet away.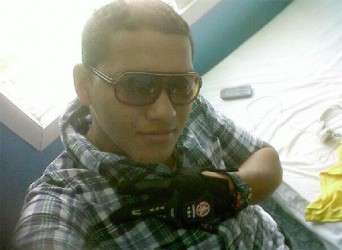 The mother of King Jr, Deborah King was too distraught to speak to Stabroek News about the accident but allowed her brother to share some information. The uncle who did not want to be named, said that his friend had informed him of the accident at approximately 3:30pm, which prompted the family to go to the Lethem Hospital. He said that when they saw King Jr, he was bleeding through his nose and mouth, his body was bruised everywhere and his legs were broken.
Iterating what he had been told about the accident, the man said that his friend had been passing by the intersection and saw the accident and picked up his nephew, placed him in his car and took him to the district hospital where he was pronounced dead on arrival. He related that there were two persons in the silver gray wagon, a man whom he knew and his daughter who appeared not to have been injured in the smash-up. He also said that persons indicated to him that the man was under the influence of alcohol and was driving at a fast pace. This coupled with King Jr not wearing a helmet while driving on his black CG motorcycle resulted in the death of the father of one. King Jr leaves to mourn his three-year-old son, parents and siblings.
Around the Web