Opposition Leader David Granger says that the PNCR remains committed to uniting the country and making Guyana 'One Nation' in line with the vision of its founder Forbes Burnham.
In giving the memorial address at the Burnham mausoleum yesterday, Granger recalled the challenges faced by Burnham – the late President of Guyana – on becoming Premier of British Guiana 50 years ago in December 1964.
"Forbes Burnham inherited a land that had been divided by Cheddi Jagan's … 'Hurricane of Protest' – a conflict that caused much hatred, death and destruction. Forbes Burnham led us to peace and freedom 18 months later, on 26th May 1966, under the inspirational national motto – One People, One Nation, One Destiny. We were committed then to make that motto a reality. We remain committed today to making Guyana 'One Nation,' Granger said in his address, the text of which was made available by the PNCR.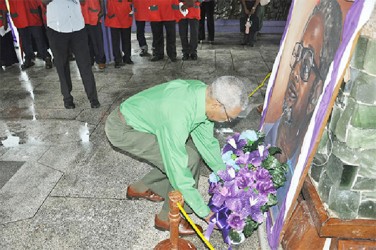 "Forbes Burnham made a contract with this country 50 years ago. The PNCR, the executors of that contract, have an obligation to continue his work to make Guyana 'One Nation.' The PNCR has a duty to actualise its Founder-Leader's vision by fulfilling his mission to make Guyana 'One Nation.'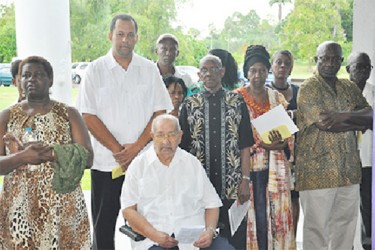 According to Granger, Burnham started the process of national unification by eliminating the human vulnerabilities and by erasing the disparities and inequalities associated with demographic, economic, geographic and gender differences and discrimination. "These inequities had divided this country into two – one privileged, the other poor and dispossessed. Guyana could not become 'One Nation' if it remained divided," he asserted.
Granger said that Burnham implemented a programme of national unification by providing easier access to essential public services especially education, full employment and social protection. "He pursued these goals by providing free education as a constitutional entitlement. He constructed the University of Guyana and Cyril Potter College of Education, the New Amsterdam Technical Institute, Guyana Industrial Training Centre, several multilateral schools and hinterland schools for indigenous students," he said.
The opposition leader stated too that Burnham pioneered national insurance, working people's housing schemes, the Amerindian lands rectification process, gender equality legislation and equal recognition of religions. "He did much more to make Guyana into a more equal nation," Granger said.
"The PNCR remembers Forbes Burnham with admiration and affection. The Party is proud of his struggle to make Guyana into 'One Nation.' The Party renews its collective commitment to continue Forbes Burnham's campaign to make Guyana 'One Nation'," he added.
Granger's comments come in the backdrop of the recent PNCR Congress which analysts have described as a step backwards for the party. Granger has labelled the Congress – during which he was returned as party leader – a success and said that he believes that though attempts were made by a small group to tarnish the party's image, they failed. The group Granger refers to comprises those led by Sharma Solomon and Aubrey Norton. Solomon and Norton, who were nominated to challenge Granger for the party's leadership at the congress, have been the most vocal in making accusations of manipulation of the party's electoral process, including the deliberate disenfranchising of party members and potential delegates from Linden, in Region 10.
Solomon pulled out of the race due to his lack of confidence in the accreditation process while Norton withdrew from the contest for similar reasons. Norton has alleged that the problems with the party's accreditation process were manufactured to ensure Granger remained party leader. Some Lindeners, who claimed to qualify for accreditation, additionally, caused a commotion at Congress Place as they protested the situation. In the commotion which ensued, a gunshot was fired, allegedly to rescue a woman who had fallen and was being trampled.
Around the Web