Orin Jerrick, the man accused of fatally stabbing a driver who confronted him after he urinated on his minibus, was yesterday remanded to prison after being charged with murder.
The allegation against Jerrick is that on July 31, he murdered Gavin Fiffee, at the Plaisance bus park in Georgetown.
Jerrick was not required to enter a plea to the charge when it was read to him by Chief Magistrate Priya Sewnarine-Beharry at the Georgetown Magistrates' Court One.
Prosecutor Michael Grant requested a short date for reports after informing the court that there are some "issues to be cleared up" by the Director of Public Prosecutions (DPP). No details about the murder were given to the court.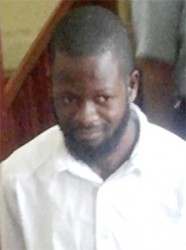 Representing Jerrick was attorney Pamela De Santos, who made an application for her client to be given medical attention and a certificate after stating that he was severely beaten and injured. The man was at the time wearing a bandage on his left hand with visible signs of oozing fluids.
After hearing submissions on both sides, the Chief Magistrate informed Jerrick that he would be remanded to prison and transferred the case for hearing immediately after to Court Three.
At Court Three, counsel renewed her request for medical attention for Jerrick. The lawyer said that her client sustained a gaping wound to the hand as well as a wound in the palm of the hand, a mark under one eye and to the side of the face "during the incident" and required that he be given a medical certificate to be shown to the DPP. De Santos said that she was not sure her client had been receiving medical attention.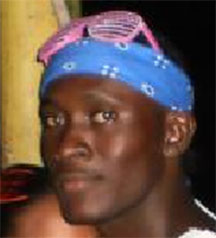 Magistrate Judy Latchman requested that the accused leave the prisoners' dock and invited him into the well of the court close to the bench, where she told him to remove the bandage so she could inspect his injuries. The court subsequently ordered that the accused be given medical attention.
Meanwhile, reporting on the status of the case, prosecutor Vishnu Hunt said that advice is still being sought with the file and that a post-mortem examination result and a statement are outstanding.
The matter was adjourned until August 27 when a preliminary inquiry (PI) is expected to begin.
Fiffee, 31, was loading passengers into his Route 44 Plaisance bus when a man began to urinate on the side of the vehicle.
Stabroek News was told that Fiffee ordered the man to stop, at which point the man became agitated and asked him what he was going to do about it. The man then pulled out a knife and stabbing Fiffee multiple times in the chest.
Fiffee was rushed to the Georgetown Public Hospital by a friend however he passed away due to blood loss.
Around the Web