Walter Rodney's recklessness may have contributed to his death, according to Senior Superintendent Leslie James, who also said he could not conclude that the State was responsible for the WPA co-leader's demise.
Testifying before the Commission of Inquiry into Rodney's death yesterday, James stated that after perusing the Guyana Police Force's Special Branch files, he found that Donald Rodney gave his brother a package which had been handed to him by Gregory Smith. It was when Walter Rodney attempted to operate the device, a walkie-talkie, that it exploded in his lap on June 13, 1980, killing him.
"It may be reasonable to surmise that there was some degree of recklessness… but in terms of fault, I'm not at liberty to say if that was so," James said yesterday at the Supreme Court Law Library.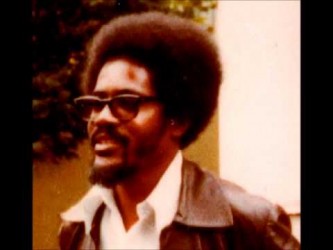 He stated that Rodney was aware that Smith was an electronics expert but suggested that he did not know that a bomb was planted in the device. He said more background checks should have been done on Smith.
The PNC, the ruling party at that time, has long been accused of orchestrating Rodney's death but has continued to reject any association with the killing. Rodney had actively opposed the party and had planned to work with the PPP to overthrow the government, according to police files from the period.
After studying the police files, James said he was unable to say if the PNC government was responsible for the WPA leader's death. "What is clear to me is that the WPA was indeed under surveillance but to state that the State was indeed responsible for the death of Dr Rodney, from reading the file, I, in my humble opinion, wouldn't be able to come to such a conclusion," he said.
He, however, ruled out that the WPA was behind Rodney's death, stating that from his perusal there was no indication that there was a movement against Rodney.
Commissioner Seenath Jairam said he was bothered by the way the State behaved after Rodney's death. "Why would the state behave in that way if it was a stranger responsible for that death? That is going through my mind," he said, noting that it was strange that Gregory Smith and his family were taken to Kwakwani aboard a Guyana Defence Force (GDF) aircraft shortly after Rodney's death. He noted further the transferral of Smith's girlfriend from being a confidential secretary at the Ministry of Labour to being a diplomat in New York.
He questioned James on what theory he would have pursued after receiving such information, had he been the Crime Chief at that time. James responded that he would have pursued the investigation with an open mind, exploring all possibilities.
On Wednesday, James had refused to make conclusions on three theories about Rodney's death being explored by Chairman of the Commission Sir Richard Cheltenham.
Sir Richard posed three theories to James after there were arguments as to whether there was a thorough investigation into Rodney's killing. He said a full inquiry into the killing should explore the possibilities that Rodney may have been the victim of a planned assassination by his party—the Working People's Alliance— or a victim of his own negligence or he was target of a State killing.
He probed whether James from his perusal of the files of the Special Branch— a special department in the police force which handles matters of national security—came up with a conclusion from his examination. But James stated that as former head of Special Branch, he was sworn to secrecy.
He stated that from the commencement of his testimony, he had made it clear that he was sworn to secrecy as the former head of Special Branch. "Some aspects of what I have been asked to justify does border on National Security issues. Several aspects in what is done in that section is done in secret," he had said.
Around the Web