A week after some Essequibo fishers complained of their trade being sabotaged by illegal operators, the Coast Guard and the fisheries authorities took action on Wednesday, resulting in nine boats being interdicted for various breaches.
The crackdown followed the use by some of the illegal fishermen of anchor seines, which are prohibited.
The Sunday Stabroek had reported on August 2nd of an attack on July 30th in which the seines for two fishing vessels owned by Zeelugt resident Kumar Persaud were badly damaged just off the Coast of Wakenaam, Essequibo Coast. Each seine cost $1.5M, according to Kumar. He and other operators later complained about the constant sabotaging of their vessels by rivals.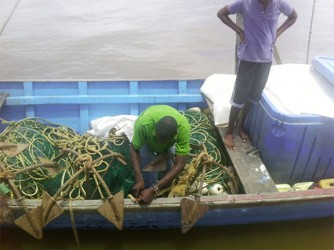 This apparently prompted the Guyana Defence Force (GDF) Coast Guard, in collaboration with the Ministry of Agriculture's Fisheries Division to patrol from Port Georgetown to the Essequibo Coast to identify those in breach of the law. According to a release issued yesterday by the GDF, the Coast Guard penalised the operators of nine fishing vessels for varying reasons, including lack of vehicle registration and fishing licence on hand, operating a vessel that was not licensed for fishing, having an expired licence and the illegal use of anchor seines.
The release further stated that the penalties for those found to be operating a vessel that was not licensed for fishing had their fishing lines confiscated, while others were warned.
Anchor seine fishermen, however, had their equipment cut loose from the vessels and discarded at sea, the release stated.
Coast Guard Commander Gary Beaton said in the statement that the joint patrol was undertaken following the receipt of information, which indicated that a number of operators of fishing vessels were employing the illegal anchor seines.
"The Coast Guard is an enforcement agency, and, once called upon by the relevant agencies to provide support, will collaborate to ensure that operators of vessels plying any of Guyana's waterways comply with the laws and regulations in force. When Fisheries said they needed assistance to address the reported issues, I advised that it had to be a joint patrol," he was quoted as saying. "The Coast Guard does not have the authority to discard the seines of operators and therefore that was something that had to be done, by the Officer from the Fisheries Division of the Ministry of Agriculture. In instances where breaches of Maritime Laws occur, the Coast Guard will first issue a warning. Thereafter, transgressors are exposed to more severe penalties as the Law stipulates," Beaton added.
Consequent to the event, at least 20 fishermen say they have had their sole livelihood stripped from them. The fishermen on Thursday visited the office of the Leader of the Opposition David Granger to make known their plight and later spoke to the media.
One man, who gave his name as Seon Allen, said that the GDF Coast Guard on Wednesday at 1pm approached his boat at sea after his fellow crew members had thrown their anchor seine. He said that there were two police officers and a fisheries officer among the five-man crew that approached them and informed that it was illegal to use the anchor seine.
Allen said that he pleaded with them to be allowed to reel in his equipment. However, officers then told him that he couldn't do that and began cutting the lines to their seine, sinking their anchors and nets. He added that this was done to several more boats, each of which had seven anchors which cost $29,000 each.
Another fisherman, Naitram Gobin, said in addition to the cost of the equipment the boats were well stocked with groceries and ice, most of which will perish now that they can no longer fish. He argued that the coast guards are overstepping their authority and not doing their jobs. He said that recent pirate attacks with no remedy is evidence of the coast guards' inactivity, as he chided them for destroying their only way of making a living.
"Pirates rob and kill people and they do nothing," an upset Gobin declared. He added, "We, who are just trying to make a living, they coming after. But they never protect we."
The Coast Guard has been blamed for ineffective protection of Guyana's fishermen, in light of a string of pirate attacks, where fishermen turned up missing and some bodies washed ashore in the Mahaicony and Corentyne areas.
Two fishermen, Ashraf Ally and Rajkumar, explained the two-year history of their trade. They said that it was something different from the drift seine method employed by more than 500 fishermen and that they sought permission for. The men said that the Ministry of Agriculture, specifically the Fisheries Division, promised them that they would put mechanisms in place and issue them licences but failed to deliver. They added that they were specifically told that the ministry required tracking devices to permit the trade but was unwilling to procure the equipment. Ally charged that perhaps the authorities expected the fishermen to buy the equipment and give it to them.
Minister of Agriculture Dr Leslie Ramsammy was asked whether he was aware of the fishermen who were attempting to meet with him to discuss their problems, to which he responded, "I have met with some fishermen over the past two days and as far as I am aware there is no complaint." Regarding anchor seine fishing licences, he added, "We issue licences to legitimate fisherman" and that was all he had to say on the matter.
Around the Web