A woman was found dead in her home last night at Plaisance, East Coast Demerara, with her hands bound and her mouth duct taped.
Twenty-one year-old Gregory De Souza returned home from work around 9pm and discovered his mother, Anne Mendonca, 57, sprawled on his bed, dead. There was pillow on top her face.
"I discover my mother… I come home and find her with her mouth tape up all around. They kill her," he cried into the arms of one of his friends. The young man was inconsolable as police called him back into the house for questioning.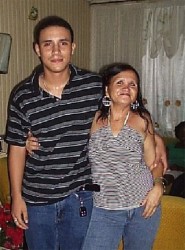 Stabroek News was told that Mendonca would stay at home while her son would go to work during the day. Yesterday was the same. De Souza, who is also a Government Technical Institute (GTI) student, left home around 8am and returned home to find their back door ajar.
A source close to the investigation stated that murder may have been the motive, while observing that only two "measly" gold chains were taken. The source said further that it appears that Mendonca was preparing to cook dinner when she was attacked because there was uncooked chicken and diced vegetables in the kitchen.
However, it was unclear whether she let her attacker/s into the house or if the door was opened.
Around the Web