A new court action has been filed on behalf of former policeman John July, who alleges that he was knocked down by former government minister Kellawan Lall.
July is anxiously awaiting a date when the matter will come up in the High Court.
His attorney had previously filed a private action against Lall in 2011 but it was shelved after Lall was appointed Guyana's ambassador to Brasil. However, the matter was refiled last year but a date has not yet been set for it to be heard.
July, 60, who says he has been forgotten by both his former colleagues in the police force as well as the minister, nevertheless is still clinging to the hope that he will have his day in court.
Almost four years ago, July's life changed when he was seriously injured following an accident involving a vehicle reportedly driven by Lall and a motorcycle. No one was ever charged for that accident.
Though Lall has never accepted responsibility for the accident and by extension the injuries that July sustained, during a recent interview the man maintained that it was a vehicle driven by the former minister that struck him down and left the scene before coming back sometime later and transporting him to the hospital. July almost lost his leg and spent several months in hospital recuperating.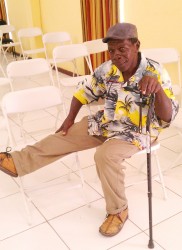 July repeated the same story he had told from his hospital bed years ago about what had transpired on the evening of September 3, 2010. At first, he had opted not to speak with the press, claiming that he had been instructed not to say anything. He later broke his silence.
According to July, he and a friend, who were on a motorcycle, were coming from a wedding reception and they were confronted by heavy traffic, including a rice truck in a very long line approaching a bridge, at Liliendaal.
He recalled that he advised his friend, who was the rider of the motor cycle, to park in the corner until the traffic congestion had eased. He said that this was done. He said that it would appear that the minister became impatient and sought to speedily overtake the other vehicles and collided with him and his friend.
He stated that the Minister later drove off, leaving him and his friend. A passing motorist, he noted, witnessed the incident and chased behind the minister's vehicle, which returned a short while later.
July said a while later men with torchlights returned to the scene and placed him in the minister's vehicle, which had returned along with a white car. He said his friend was retrieved from the bushes, where he had been flung, and he was placed in the car and they were both taken to the Georgetown Hospital.
However, Lall had offered a different account. In a statement to the press, he had said that the accident occurred on the bridge at Liliendaal, which was under repair at the time. This resulted in only the southern lane being open to traffic while the northern side was cordoned off with large signs urging road users to be cautious.
According to Lall, he never drove away from the accident but rather he had stopped immediately after his vehicle had been hit. He said that persons who had gathered assisted in placing an injured July into the back seat of his vehicle; this, he said, was the only time the injured man came into contact with his vehicle.
Lall stated too that July sustained injuries to his leg not as a result of the collision, but as a result of the motorcycle colliding with the metal rails of the bridge.
A struggle
Every day since then for July has been a struggle. After the accident, he was forced to retire early due to the nature of his injuries. He has to use a walking stick to move around as his right leg still has metal rods holding the bones in place. He also walks with a visible limp.
He explained that he still has two pieces of steel left in his thigh and still attends clinic. He said that he had not yet been told when they would be removed. The injury only affects him when it rains, he says adding he is feeling much better now.
As a result of the injury, he said that he is unable to work and he feels like he has been forgotten. "This government don't care nothing," he said, while also accusing the police force of not showing any concern for his plight. He said in the years since the accident, the police have not taken a statement from him. "They never took a statement from me. The Ministry of Home Affairs all keeping dumb with me," he said.
He recalled at some point while he was home, the police called saying that they wanted to see him. He said that he directed the ranks to his home and when they arrived they related that they were sent by the Director of Public Prosecutions to arrest him for riding without a helmet. Due to his condition, the arrest was never executed.
He recalled that the licence plate number of the vehicle that hit him down was recorded by a female rank at the hospital who passed the information to the ranks at the Sparen-daam Police Station. He said too that based on what he knows, the vehicle was also lodged but it was collected the following day.
July told this newspaper that had he been the party at fault, he would have been put behind bars without delay.
He noted that through an attorney, he initiated legal proceedings against Lall but he is still waiting on a date. "The matter file but up to know it ain't call," he noted, while adding that "nobody ain't kay nothing." He said that every time he checks, he is always told that a date is still to be given for the matter.
July stated that the only person who seems interests in his case is his attorney. According to him, he has had a trying time but had the backing of his children and his National Insurance Scheme (NIS) benefits.
July said that he often sees Lall but as far as he is concerned he doesn't remember him. According to the ex-cop, while he is disappointed that the system has failed him, he is still hopeful that someday he will get the justice that he deserves. "I am still hopeful…" he said.
Around the Web