That old barge is still here and it does not look any different, but thick bush has completely changed the appearance of school building. There used to be a bustling stelling on Wednesdays. That has disappeared. The new homes are particularly striking. Those are some of the things that struck me on my recent return to the Berbice river.
This had not been my first return to my erstwhile home since I left. This time around, however, some of the changes seemed more profound.
I had spent a significant portion of my life in the Berbice River.
The barge had been there long before I was born. I remember the story behind it only vaguely. It was one of those barges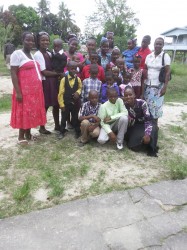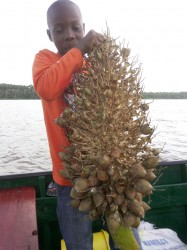 that used to be filled with bauxite and pulled by a tug. It had capsized in the vicinity of De Velde, and to this day it still remains there.
The building that used to house the De Velde Primary School now stands derelict. It is not the building in which I had my early schooling. The one-flat building in which I had embarked on my educational journey was replaced with a two-flat building some years after I had left. That building too had been subsequently abandoned after a decision had been made to relocate the school because the water front had begun to erode.
The stelling was where the steamer docked during its weekly voyage through the Berbice River. That mode of transportation was important to the population in the riverain areas. Most of them were farmers and the steamer was an essential means of transportation for their crops.
Whenever the steamer was not working the stelling, which was covered by a shed, was taken over by the school children to play games. As I looked at the spot where it once stood I was seized by an uncontrollable nostalgia.
As a person who loves to eat, high in my thoughts was the memory of the many goodies I enjoyed at the stall of 'Aunt Tanny' who vended on 'steamer day.'
My recent return to the area – I have ties to the Bartica, De Velde, Fort Nassau and Geertruyd communities – even though short was the most memorable of all my visits. Perhaps maybe for the first time I fell in love with those communities. It may be too that my memories of living there are like a good bottle of wine, which gets sweeter with age.
I like to tell people I am from De Velde but really the five consecutive years of my life spent in the Berbice River were lived in an area called Bartica, and however brief, I believe those five years have had the most profound impact on me to date.
But back to that recent trip. It was most memorable of all my visits because, for the first time in about fifteen years, the six of us (we are six sisters with no brothers) got the opportunity to spend time in one building with our children. The matriarch of this tribe is Micklyn Lindie, and between the six of us we have given her sixteen grandchildren. The sisters are in order of age: Geraldine, Oluatoyin, Ernana, Royantha, Denise and Akeisha.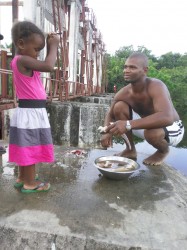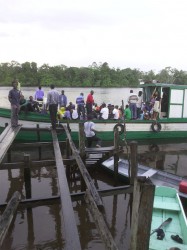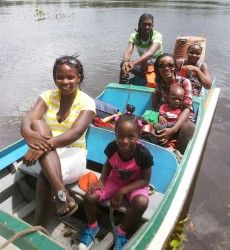 And so we six, sixteen children, (between the ages of three months and 13 years) and grandmother spent some memorable time together all in one house. We are all married but no husbands were allowed this time, which meant we were all free with our words and actions and had unadulterated fun given extra zest by the many relatives who dropped in every minute.
"Daddy we had so much fun, we didn't need no TV or anything to get fun," was the revealing statement made by my nephew Andel to his father on his return to Georgetown. I believe if his father only had wind of the small boat used to transport him to the area he would have objected to the trip.
But being 'river girls' we mothers had no qualms about taking our children up the Berbice River in the small boat. We did have some hesitation about the return journey made in the wee hours of the morning in an uncovered boat captained by two youths under the age of 19.
The stay
So much has changed in the more than twenty years since I left the area but so much still remains the same. I no longer know who the occupants of all the houses are, because so many new ones have been built.
In my time most people used paddle boats but today the majority use boats with outboard motors. On this trip there was no paddle and boat for me as everywhere I requested to go I was afforded a seat in an engine-powered boat. Maybe I missed the paddle, even if it was just for the fun of it, although I must admit I have grown a bit lazy in the interim.
Even the school children are no longer required to paddle to school as through the help of the authorities and the communities a school boat now transports most of them. I remember paddling against the tide many days and being dog tired by the time we arrived in school.
It is good that the children of today are not forced to endure this and they no longer go to school barefoot. For the years I attended school in that area I did so without shoes or socks. One reason was the fact that the shoes and socks would be soaked by the time we arrived at school because of the leaky boats. We did wear shoes however when we attended church.
And believe it or not I did not take a dip in the Berbice River owing to the fact that my trip was first hampered by a 'nail stick' but also because the house we stayed in had running water and a toilet and bath – amenities unheard of in my time. Everyone I knew bathed in the river and used pit latrines. Most people still do.
And almost all the homes have electricity powered by generators turned on mostly at night, and all are also equipped with a television set and a DVD player. African Moods is a 'big thing.'
But it was the quiet solitude of the community that I loved most, away from the internet and with no phone. In addition I deliberately did not listen to the radio, so that for five wonderful days I did not keep abreast of the news. How wonderful it felt!
…And I did not miss Facebook.
The peals of laughter coming from my children and their cousins were like sweet music to my ear coupled with those of myself and sisters as we reminisced on our days living together. As in anyone's life we had good and bad memories, but during this trip we found laughter even in the bad memories. My sister Ernana is the comedian of the family and she can entertain for hours at a time, and she did just this. Geraldine has taken up her role as the eldest and she would give us advice at every turn and made a very valiant attempt to turn us all into vegetarians. I am working on that. Denise and Akeisha are the cooks and they fed us some sumptuous meals. Royantha is 'miss put to right' and she ensured that all the children knew their places, but she did so lovingly. Yours truly is good at pretending that she is always busy but is really just enjoying every moment more than anyone else, and was only forced to wash some dishes or sweep when it became patently obvious that she was slacking. (The 'nail stick' was a blessing in disguise.)
And the one golden Saturday attending the De Velde Seventh Day Adventist Church (that church holds so many memories for me) is one I would always remember. The sweet guitar music supplied by the same players who did so in my childhood is still in my ears. The building was the same one in which I attended church, but soon it would be no more as the community is in the process of building a larger one.
Burning issues
I could not have enjoyed myself so much without my uncles Kenrick (his son Sherlock allowed us to use his house for our reunion) and Ulric and their families, and all my other extended relatives who in one way or another made sure our stay was comfortable even if it was just by dropping by and 'bussing a gaf.' However, there were many things which made me sad.
At the top of the list is the fact that the farmers are being short changed in that they have no market for their produce. So after weeks and sometimes months of back-breaking work some have to sit and watch an entire field of pumpkin or some other crop go to waste simply because there is no one to buy it.
The residents complained bitterly about the fact that the steamer no longer comes up the river. At that time the hucksters would travel up to the areas on the boat and purchase the produce directly from the farmers. Today they are forced to rely on private boat owners to take their produce to New Amsterdam which is not a system they can depend on, while many times it is it not profitable.
They are calling on the powers-that-be to return to the steamer arrangement, pointing out that there is hardly any means of making a living other than by farming.
"Life is really tough and it is not because we are not working hard," one frustrated resident commented. This has led to the migration of many of the youths from the area and even the recourse to illegal activities by others.
Another burning issue for many residents in the communities is the fact that after writing the Grade Six Assessment children are forced to leave school and those whose parents who are unable to send them to secondary schools in other areas have their education abruptly halted.
"It is the end of school for them…some of us cannot afford to send our children to New Amsterdam or Georgetown so school life for them done," one parent said.
Up to a few years ago and certainly when I attended school (which I admit was eons ago) we were allowed to go to school until around the age of sixteen at what was then considered the Primary Top department. Granted, we were not allowed to write CXC but at least children still did what children should be doing at such and age, and that is learning in school.
But now at the tender age of 11 some children are just left to languish, and apart from working in the farm or 'catching their hand' working with a boat owner there is not much more for them to do. Many parents make the sacrifice and send their children out of the area to continue school but there are still others who are unable to do so. The Parents Teachers Association (PTA) of the De Velde Primary had a discussion on the issue with Education Minister Priya Manickhand but it has yielded no positive results so far.
Around the Web