Preet Bharara, the United States Attorney for the Southern District of New York, yesterday announced that Guyanese attorney Albert Baldeo, a former Queens, New York District Leader, was found guilty in federal court of tampering with witnesses during the investigation of his alleged campaign fraud by the US Federal Bureau of Investigation (FBI).
A statement from Bharara's office yesterday said that Baldeo, 54, was convicted of seven counts of obstruction of justice in Manhattan federal court after a two-week trial before U.S. District Judge Paul A. Crotty. He was acquitted of three fraud-related counts relating to approximately US$15,000 in claims for city matching funds.
Bharara stated: "The fact that Albert Baldeo lost his election does not excuse his corrupt conduct.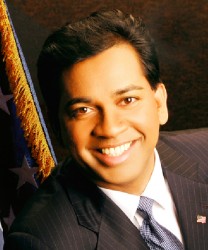 With today's verdict of guilty, an impartial federal jury has found that Baldeo lied and instructed others to lie to law enforcement agents investigating the source of his campaign contributions, and threatened and intimidated others in order to conceal the truth. These practices have no place in our politics or our justice system, and there should be no doubt that this Office will prosecute such conduct while it continues to vigorously investigate and prosecute political corruption in New York City and New York State."
The release said that according to the Complaint, Indictment, and Superseding Indictment and evidence presented at trial, in the fall of 2010, Baldeo, then a Queens District Leader of a political party and attorney, took part in a scheme to defraud New York City which involved the funnelling of multiple illegal campaign contributions to his eventually unsuccessful campaign for City Council. The release said that on various occasions, Baldeo, and in at least one instance one of his employees, gave money orders or cash to individuals to contribute to the campaign in their own names, even though Baldeo had supplied the funds and these individuals did not provide any of their own money or reimburse him for these donations.
The release said that as part of this scheme, Baldeo gave each such donor, a campaign contribution card in which he or she wrote their particulars and the amount of money they supposedly donated to the Baldeo campaign.
"Baldeo instructed the straw donors to sign the contribution cards falsely affirming that the contribution was being made from their personal funds and was not being reimbursed in any manner.
The New York City Campaign Finance Board ("CFB") relied upon the information contained in these fraudulent contribution forms, among other things, in order to determine whether to release public matching campaign funds to Baldeo's 2010 campaign.
Moreover, as part of this scheme, Baldeo instructed several of these straw donors to sign affidavits, at least one of which was actually provided to the CFB, that also falsely asserted that these straw donors' contributions were made using their own funds", the release said.
After learning of the FBI's probe of this matter, the release said that Baldeo obstructed the investigation by ordering some of the straw donors to provide false information to, or not cooperate with, the FBI agents.
In one case, the release said that after Baldeo learnt that one straw donor was going to refuse to lie, a threatening letter was faxed from Baldeo's office to the office of this straw donor's attorney. Further, a co-conspirator of Baldeo's made false allegations to the New York City Adminis-tration for Children's Services that this straw donor was abusing his grandchild.
Each of the counts Baldeo was convicted on carries a maximum sentence of 20 years in prison. Baldeo is scheduled to be sentenced by Judge Crotty on December 16, 2014, at 11:00 a.m.
Bharara praised the investigative work of the FBI. The case is being prosecuted by the Office's Public Corruption Unit. Assistant United States Attorneys Daniel C. Richenthal and Martin S. Bell are in charge of the prosecution.
Around the Web