Clifford Clarke, the hire car driver who allegedly struck down Christine Ishram on Saturday morning along the Non Pareil, East Coast Demerara public road was yesterday charged with causing her death.
Clarke, the driver of vehicle HB 5806, was released on $500,000 bail yesterday at the Vigilance Magistrate's Court where he was charged with causing death by dangerous driving.
He is scheduled to appear again in court on September 18.
Christine Ishram's father, Vick, said he could not attend the arraignment because he was still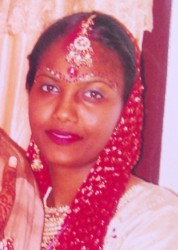 in shock about what happened to his daughter. He said a post-mortem examination conducted on Ishram revealed that she died of multiple injuries. He said his family expects to cremate her on Thursday.
"When I looked at my daughter this morning everything was broken. She had a lot of injuries to her head and foot," he said.
He stated that when he returned home after the autopsy, he did not want to tell his wife how their daughter looked. "I tell her that she looked nice, that nothing wasn't wrong with her.
It's hurting her a lot…we are all trying to come to grips with it," he added. Ishram, 25, of Lot 241 Section 'D,' Non Pareil, was waiting on a bus to buy a gift to celebrate rakhi with her brother on Saturday, when she was fatally struck down.
An eyewitness said she was standing at the corner of a street when she saw Ishram, who was a mother of one, cross the road and stand at the side. She said the taxi flew past her and hit Ishram, pitching her into a fence and she fell into the gutter. Ishram was pulled out of the trench and was barely breathing.
She was rushed to the Georgetown Public Hospital, where she was pronounced dead on arrival.
Ishram's mother, Pauline Ishram, said her daughter left home to buy a gift for her brother to celebrate the rakhi festival. Traditionally, in Hindu culture sisters would tie a rakhi—a bracelet made of thread—around their brother's wrist to celebrate their relationship. Pauline said Ishram left her two-year-old son home with her.
Around the Web