The tomb of a three-month-old baby was vandalised at the Reliance Cemetery in East Canje, Berbice, and his skull and one of his arms were removed, plunging his family once more into grief.
Yadram Rameshant, called Sanjay, died of pneumonia on June 22nd, 2014, at the Georgetown Public Hospital. He was laid to rest on June 25th.
However, his final resting place was disturbed when a person or persons unknown broke into his tomb and removed the skull and arm. The motive behind the vandalism is unclear. Robbery has been ruled out since gold jewellery and $5,000 in cash that the toddler was buried with was left untouched. His missing arm had four gold rings; however, the rings were taken off and placed in his casket.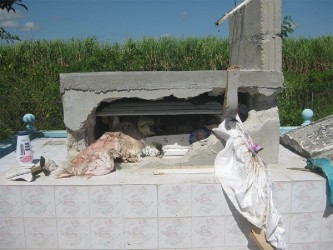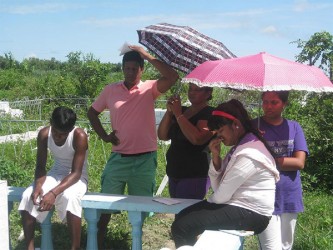 He was also stripped of most of his clothes and left only in his underwear. His body was thrown in the grass a few feet from his tomb.
Yesterday, his bereaved parents, accompanied by other family members, visited his vandalised tomb and tried to make sense of what had happened.
Chowdarilall Rameshant, also known as 'Lil Boy,' who is a close relative of the family, recounting that they received word of the vandalism on Tuesday night. "Last night somebody bring the news that how the pickney deh out of the tomb. So when we come, we meet the baby outside," the baffled man said, while adding that they could not fathom why someone would want to vandalise his great nephew's tomb. "The gold band was on his hand, his gold rings were on his fingers and two other gold rings were on the ground and the $5,000 we bury he with is still there. So what really they been want? Why take his head and arm?" he questioned.
Meanwhile, the toddler's teenaged mother, Farina Ally, was inconsolable as she was forced to relive the trauma of having to bury her first and only child for a second time.
She told Stabroek News she hasn't even begun to come to terms with the fact that she lost her son at such a tender age, and now she has to deal with his tomb being vandalised and his body severed. "When we come the body ain't had on any head and his right hand was missing. We find pieces of his skull scattered around the tomb on the ground," she sobbed. "Oh gawd! When will this pain stop? I feel like I'm trapped in a very bad nightmare and I can't wake up. I just wish it was all a dream!"
"Why they do this?!" she demanded, disclosing that not only was little Yadram her first child, he was the first grandson on both sides of the family.
The police were summoned to the cemetery and after taking pictures of the gruesome scene, they permitted the family to put the body back in the tomb albeit without the head and arm and seal the broken section of the structure.
Around the Web