President Donald Ramotar has rejected claims that Chinese company Bai Shan Lin is engaged in excessive logging and exports and he accused sections the media of adopting an "opposition stance" for making such assertions.
Answering various accusations at a press conference yesterday at the Office of the President, the president said "there is no raping of our forests," and assured that the extent of the logging being undertaken by the company is below the allowable limit. He further stated that none of Guyana's laws with regard to logging are being contravened in the case of Bai Shan Lin or Indian logging company Vaitarna.
Though both companies are seriously lagging in fulfillment of commitments made, particularly as it relates to setting up a processing plant which is expected to facilitate value added and create jobs, Ramotar said they are in the process of doing what they are supposed to do.
The opposition parties in the meantime, he charged, continue their "anti-development" attacks on foreign investors. He cited the Amaila Project, the CJIA Expansion Project, and the Specialty Hospital as casualties of similar attacks by the opposition parties.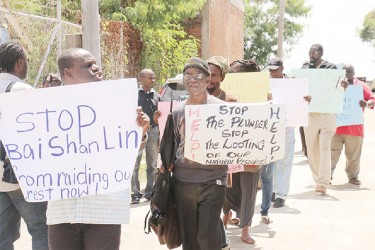 Meanwhile, members of the Environmental Community and Health Organization (ECHO) yesterday sat down with officials of the Guyana Forestry Commission (GFC) following a demonstration staged by the former in front of the forestry sector's regulator as the agency sought to defuse the organization's concerns over logging.
Around twelve or so members of the non-governmental organization (NGO) turned up in front of the GFC yesterday afternoon to protest allegations made in the press against foreign investors operating in Guyana's logging sector, particularly Bai Shan Lin and Vaitarna Holdings Private Inc. (VHPI).
Kaieteur News has been running articles all week in which Bai Shan Lin is accused of violating the contract under which it is allowed to operate in Guyana's forestry sector. Also, an article in Thursday's edition of Stabroek News pointed out that Vaitarna is yet to commence construction of a wood processing plant despite promises by Natural Resources Minister Robert Persaud that such a facility was to commence operations six to eight months after the commencement of its construction which was to start in the first quarter of 2014.
ECHO Executive Director Royston King yesterday told reporters that the allegations made against the companies, and Bai Shan Lin in particular, are serious and need to be looked into. He said there needs to be good governance in the management of the sector, and suggested that the company's operations be halted until its contract is produced by the GFC, and verified to ensure that it is operating within the parameters therein.
Among other things, Bai Shan Lin is accused of harvesting much more logs than it was given permission to. Bai Shan Lin has denied this. King suggested that GFC shut down the company's operations until the situation is clarified.
However, GFC Corporate Secretary Jacy Archibald, who invited the demonstrators to meet with several of the GFC's administrators, said that there is no legal ground to halt Bai Shan Lin's operations.
Archibald, who was flanked by GFC's acting Commissioner Edward Goberdan, Deputy Commissioner Tasreef Khan and Head of Planning and Development Pradeepa Bholanath, also explained to the group that the contract/agreement they have asked for cannot be provided to them unless a formal request is made.
This, he said, is in keeping with the Forest Act and the GFC Act, both of which govern the commission.
The Forest Act, he explained, demands that any information requested from the commission be done by writing the commissioner. The commissioner then has a certain amount of time to see if any aspect of the requested information is confidential or privileged and then finally decide on producing the document.
As such, he continued, the GFC's contract with Bai Shan Lin cannot be made available to ECHO until the aforementioned procedure is followed.
No grounds to halt operations
With regard to halting Bai Shan Lin's operations pending clarification, Archibald said the company's contract gives it the right to enter an agreed on area within state forests and to perform a certain percentage of extraction.
If the Commission is to stand up now to halt the operations without legal justification, he explained, the agency will be in violation of the contract it entered into with Bai Shan Lin. Stabroek News is informed that a baseless cease order can give the company a reason to take legal actions against the GFC.
"If we would like to stop that operation, we must find legal grounds to do so and at present we don't have any because they are in their contractual legal limit to do what they have been doing in terms of the harvesting," he explained.
Cutting Cycles
The group also expressed concerns that Bai Shan Lin's operations is having "devastating' effects on Guyana's forests. However, Khan said the "Code of Practice for Timber Harvesting" the GFC has in place makes such an impact all but impossible.
Before any company can commence harvesting, he said, it has to prepare an Environmental and Social Impact Assessment (ESIA) as well as a management plan for the areas in question.
Companies are also required to prepare an annual operation plan which usually outlines yearly activities for ten years. He said that "for big areas at least 4.5 percent of the concession area must be put aside for biodiversity purposes." Also, based on the stock in the areas, the company has to model an apt cutting cycle.
A 25-year cutting cycle, for example, means the net productive area will have be divided into 25 parts, each of which can only be harvested in 25-year intervals. In this cycle, a company can only take out 8.33 cubic from every hectare. This is called selective logging. He also said that there are provisions to ensure that young trees are not cut, and that trees are not cut in a way that can affect the canopy of the rainforest.
Monitoring
In addition to these provisions the GFC has very rigid monitoring mechanism, Khan said. In addition to the GFC's log tagging system, he said the GFC has 39 fixed location across Guyana's forests, while 10 ten mobile stations move along with companies to watch and ensure that their actions are in keeping with the regulations. A total of 229 Forest Officers are on the ground at any given time working towards this end, Khan assured.
Both Khan and Archibald told ECHO members that though the pictures appearing in the media outlets seems to suggest wrongdoing, this is not the case. Archibald, in particular, said it is easy to look at as picture and come to an ill-informed conclusion.
Bholanath explained that GFC uses five-metre satellite resolution to monitor operations in Guyana's forests and she also said that the country's forests are audited on a yearly basis by the government of Norway to ensure that deforestation levels remain below agreed limits.
Archibald said that the information provided was not done so as to suggest the system is foolproof. He nevertheless said that several checks and balances exist to cover whatever deficiencies exist.