'They just stood there. No warning shot was fired. There was no siren. Nothing. He continued chopping although the officers were watching.' – Kwame Bhagwandin, who was chopped and burnt with acid in the New Amsterdam Prison on May 23
Kwame Bhagwandin, one of the inmates disfigured in an attack at the New Amsterdam Prison in May, is fearful that an attempt is being made to cover up collusion between prisoners and guards at the facility.
The Board of Inquiry set up to probe the attack handed over its report with recommendations to Minister of Home Affairs Clement Rohee a month ago but Bhagwandin, who was burnt with acid and chopped about his body with cutlasses by fellow inmates, says no statement was taken from him.
Bhagwandin was hospitalised for nearly two months due to the severity of his injuries. He had been on remand on charges of attempted robbery and discharging a loaded firearm when the attack occurred. He has since been released on bail and is still recuperating at home from the traumatic injuries he suffered.
However, he recently contacted Stabroek News to break his silence on the attack because he feels he is being denied justice. He believes that his attackers as well as the prison wardens who allegedly assisted them should face criminal charges for their wrongdoing but he has gotten no indication that this will be done.
Rohee has said that he will be studying the recommendations made by the Board of Inquiry together with officials of his ministry and the Guyana Prison Service,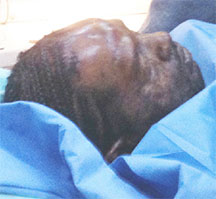 after which a decision on how to proceed will be made. The Board of Inquiry members were Senior Police Superintendent Clifton Hicken; Coordinator of the Community Policing Organisation of Guyana Dennis Pompey; businessman Taij Jaggernauth; and retired Major General Norman McLean.
It is unclear whether any police investigation was referred to the Director of Public Prosecutions for advice on criminal charges.
Abdul-salam 'Sato' Azimullah, 31, of Hampshire, Corentyne, Davendra 'Bara' Harricharran, 28, of Nigg, Corentyne and Clarence 'Wild Hog' Williams of Angoy's Avenue, New Amsterdam were the other inmates who were injured. Williams and Bhagwandin had to be transferred to the city for additional medical care, while the other two prisoners were admitted to the New Amsterdam Hospital.
Their attackers were in possession of cutlasses and acid, raising concerns as to how the prohibited items ended up in their hands. So far, the injured prisoners and their families have all pointed to prison wardens, who they say engage in unauthorised dealings with prisoners for a fee.
'They just stood there'
Bhagwandin, like the others, has also accused prison guards of aiding his attackers and he said at least two of them, who were armed, stood by and did nothing while he was being attacked.
He recalled being in his cell, located on the Number One landing, when he heard screaming on the afternoon of the attack. He explained that the prison was already on lockdown and Williams, who was the orderly—the inmate in charge of ensure the tally of prisoners is correct and the area is cleaned up after lockdown—was standing on the landing.
According to him, he saw an inmate from a nearby cell run past and he asked what was wrong. He was then told that other inmates, including one identified as 'Shoulder,' were throwing acid on Williams and chopping him up.
As a result, he started knocking on door of his cell to alert prison wardens. However, no one came, he said.
Bhagwandin said that after kicking on his cell door for about 10 to 15 minutes, he saw four men, including 'Shoulder,' appear. He recalled that one of the men had a "potty bucket" with acid and a green cup inside, while the other three had "fine cutlasses."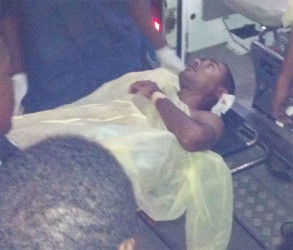 'Shoulder,' he explained, is serving a prison sentence of 25 years to life and had been confined in the solitary block, which is separate from the regular prison population. An iron gate, secured with a padlock, he noted, separated the two sections. He identified the others by name and said that one of them is the uncle of two of his children.
'Shoulder,' who appeared to be in charge, Bhagwandin said, instructed the inmate holding the bucket to throw the acid through the bars of his cell door. That inmate did as he was told and the substance landed on his face and stomach.
Bhagwandin said that one of the attackers had a key but despite efforts was unable to open the door to his cell. As a result, the group made their way upstairs to Azimullah's cell. "I hear when 'Shoulder' tell him, 'Come out hey! Come out hey!" he said, adding that 'Shoulder' accused the man of being disrespectful. He said he heard Azimullah being repeatedly chopped thereafter.
The men then inquired where Harricharran was and Bhagwandin recalled hearing someone say C cell 22. According to him, about five to eight minutes later he heard their footsteps on the stairs, followed by silence. Minutes later, he said, they reappeared in front of his cell.
After some effort, they managed to open the door. Bhagwandin said that he tried to protect himself by pushing the door back but he was eventually overpowered. He said that he used a mattress to block the chops but `Shoulder' started "jukin de mattress up." He said he asked 'Shoulder' what the problem was and the man responded, "Y'all just come in and y'all feel y'all could run this jail."
In addition to the burns, Bhagwandin suffered three chops on his right hand and two chops on his left hand. He said that he managed to get away and ran out of the cell. As he escaped, two of the other prisoners, who were standing outside, chopped him twice in the back.
He still managed to reach the entrance gate to the male block but it was padlocked. As a result, he went in the direction of the reception area but found a padlock there too. He said that he noticed Williams lying behind a big table and Harricharran in a pool of blood nearby. He also soon discovered that one of the attackers had followed him and the man continued the vicious assault.
According to Bhagwandin, there were two prison wardens, both armed, standing on the other side of the locked gate but they did nothing to help. "They just stood there. No warning shot was fired. There was no siren. Nothing. 'Dutchie' continued chopping although the officers were watching," he said.
He said that his attacker then threw the keys to the gate where the officers could have gotten it. One of the officers, he recalled picked it up and opened the gate. He said that he and Harricharran walked out, while Azimullah was found in front of his cell. The police arrived about five minutes later and he claimed that despite their injuries the prison wardens were apprehensive about he and the other wounded inmates being taken to the hospital. He said that one of the police ranks insisted that their conditions appeared serious and that they should be placed in the police vehicle and taken to the hospital.
'Them ain't tek we serious'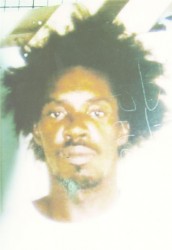 Bhagwandin told Stabroek News that exactly one week prior to the attack, he personally witnessed an exchange between 'Shoulder' and a prison warden from the sanitary division and a report was made to the prison administration.
"A week before the story, I give a statement to the OC [officer-in-Charge] and a senior matron concerning the acid and the cutlass," he said, while opining that this may be a reason why he and the others were targeted in the attack.
He said he, Harricharran and Azimullah were among those who gave statements to the OC. "I see the officer pushing he hand in he pocket and give 'Shoulder' a small, clear glass bottle…. Shoulder went back to his cell and came back with the same green cup. It was smoking," he recalled, before later adding that he also saw the man in possession of a cutlass on the same morning.
He noted that he and the others demanded to see the OC, who they met and who promised them a meeting with the deputy head of the Guyana Prison Service, based in Georgetown, the following day. That meeting never materialised.
Bhagwandin added that he and three other inmates gave a statement and the OC promised that he would "tumble the prison" and look for what they had seen. Given the fact that nothing was done, he said that he decided that it was up to him to protect himself. He insisted that had the OC acted on what occurred a week before, the attack could have been avoided. "We told him we feared for our life… them ain't tek we serious," he said.
Cover up
About a week after he was released on bail, Bhagwandin said he and Harricharran were at the hospital having their wounds dressed when he received a call. He said that the person on the other end identified himself and also said that he was a member of the Board of Inquiry set up to probe the attack. He could not remember the name of the person.
According to Bhagwandin, the person asked him and Harricharran to go the New Amsterdam Prison Sports Club to give a statement about what transpired on May 23rd. He said that due to the unavailability of their respective lawyers, they opted to go on their own and when they arrived at the location they met three persons. He said that he indicated to the trio that he did not have an issue giving a statement except that he wanted his lawyer present. He recalled one of the persons telling him that it was his right and it was indicated to them that they could make contact with their lawyers and return later in the day to give the statements.
He said that it so happens that his lawyer was in court and they were subsequently unable to make contact with the persons on the board. He said that he made contact with the OC at the prison but he claimed that he had misplaced the number for the board member.
Bhagwandin said that only Azimullah and Williams were able to give statements to the board.
"I watching Rohee on TV claiming de investigation finish but they didn't speak to me or Bara. On to now, I ain't heard none of these fella getting any criminal charges or nothing. They all just trying to cover up what going on there. They have my home number too and nobody tried calling me" he said.
Bhagwandin insists that the administration is trying to protect the guilty wardens. "I need justice. Tomorrow gon make three months and nothing come out of the story. I am a father of five… I can't use my two hands, [they are] badly chopped, I can't even pull up my pants properly," he said, while adding that he still had to undergo more surgeries to correct the damage done to his appearance.
He noted that the acid attack also damaged his left eye.
"I am frustrated. Something gotta to be done. I understands that they transferred them [the attackers] to different locations. It ain't look like they will file criminal charges. Transfer is not good enough. People got to face the law," he said.
Around the Web