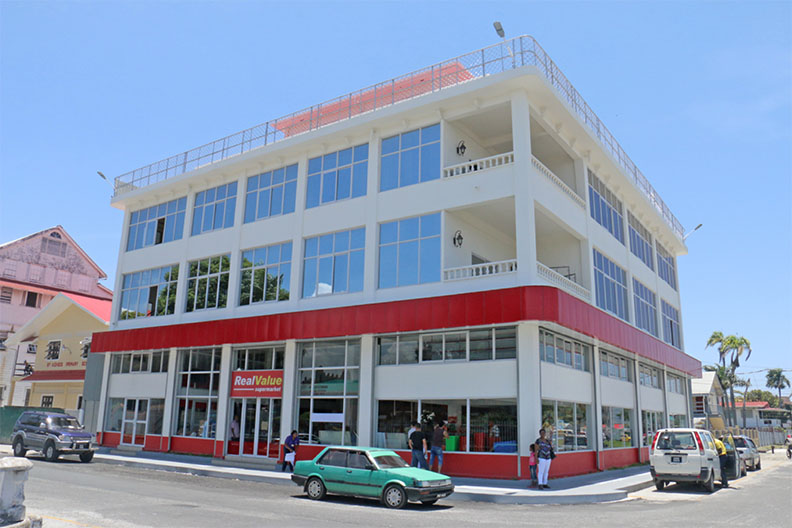 Another multi-million dollar supermarket is expected to open its doors to Georgetown and is aiming to raise industry standards through friendly competition.
Real Value Supermarket, the first such venture by longstanding entrepreneur Jason Wang, will open its doors on September 1 for a soft opening.
The new store, located at 246 Church and Thomas streets, will have a grand opening on November 7.
"This idea has been in the making for two years and this was our ideal spot for the supermarket. There is good parking for customers and we will ensure their security in this premises," said Real Value Supermarket's Manager Charles Wallerson. "We are customer-oriented. We want them to come in and be comfortable. We want them to shop in comfort and they must feel secure in this premises," he said.
Wallerson said the management is hoping to raise the standard of supermarkets and is looking forward to friendly competition with other supermarkets. He said the supermarket so far has received a lot of support from suppliers and other supermarkets. "We have a lot more to learn from these businesses. This is our first supermarket and we are open to advice and suggestions," he said.
The investment has already seen the employment of 16 persons so far and is expected to see more employed before its grand opening.
The supermarket has ten isles on its ground floor and several others on its second floor.
It is expected to provide shoppers with affordable products, including fresh vegetables, frozen meats and seafood as well as household supplies. It will also offer shoppers a MoneyGram service and Wang is also in engaging with the management of German's Restaurant to offer a soup express in the new store.
The supermarket will be opened from 9am to 8:30pm from Mondays to Thursday, and 9am to 9:30pm on Fridays and Saturdays. It will also be opened on Sundays from 9am to 1pm.
Around the Web