Members of the private sector are pleased at the housing development projects taking place along the East Bank corridor and have pledged to collaborate with government on these projects with a view to creating more opportunities for business.
Led by Housing Minister Irfaan Ali, the group including Private Sector Commission (PSC) Chairman, Ramesh Persaud; Vice Chairman, Edward Boyer; Past President Clinton Urling; Kit Nascimento, Annette Arjoon, other officers from the ministry and stakeholders started their tour with a site visit at Eccles where 60 turn-key homes for young professionals have been constructed.
This project officially started in 2012 and continues to be successful as young professionals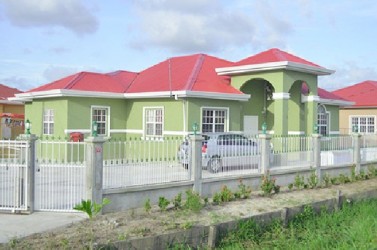 have capitalised on the public/private partnership initiative, a report from the Government Information Agency (GINA) said. According to Ali, the area that was previously a swamp in 2009 now has one of the fastest occupancy rates of the housing development project.
"We are in partnership with the private sector and professional groups. The government would have put in the infrastructure, private capital would have assisted in the building of the homes and the professionals were allocated," he said. Each house features a bungalow roof, boasts three bedrooms, two toilets and bath area, kitchen, cupboards and room for expansion. It costs $13M but has a bank value of $25M.
"This partnership was able to bring the private sector and professionals together and the government, since the beginning of this we have had immense interest in this type of initiative. People are moving away from land allocation because we are able to achieve economy of scale," Ali said. He also noted that this initiative costs home owners 35% less than what they would have had to invest, including in security and supervision costs, had they embarked on building for themselves.
Regarding the incomplete road work, Ali said that plans are in train to complete these works once there has been 75% occupancy in the scheme. This decision had taken into consideration heavy vehicles traversing the area for construction purposes. The minister also noted that 300 persons had gained full time employment for eight months during construction.
The ministry also plans to build another 200 homes, at the same value, by 2015 to meet the growing demand. Already the ministry has been flooded with close to 600 requests for turn-key type homes.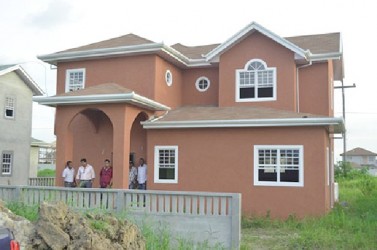 The team also visited another location in the scheme where work is ongoing on 31 houses under the same project. These houses are two-storied and feature three bedrooms and a kitchen. They cost $19.5M and have a bank value of $30M. They have all been allocated.
The private sector team lauded the government initiative. "We are all very impressed with what we saw here. I just want to say we are going to be bringing back a technical team to look at these projects on a wider scale with a view to see how we can structure to be a part of the development," Boyer said. He also said that the private sector will be collaborating more with the commercial, manufacturing and employment sectors as over the next few months there will be rapid development and opportunities for investment in these areas.
PSC Chairman Ramesh Persaud said the tour has given the team a clearer picture of the developments taking place. "We will be looking at the opportunity for business. There is a great amount of opportunities that businesses can benefit from that is an important focus that we will look at, as the impact on the economy will be significant," he said.
Similar sentiments were expressed by Nascimento. "It is the job of a government to house its people well. It's one of the most important means of use of taxpayers' money. This is superb evidence of the government carrying out its mandate," he said.