President Donald Ramotar on Friday officially launched the Ministry of Health's Wellness Warriors Club to promote health and wellness at the community level in the fight against Non-Communicable Dis-eases (NCDs).
The club was launched at the Guyana International Conference Centre at Liliendaal, East Coast Demerara in the presence of the Pan American Health Organisation (PAHO) Director Dr. Carissa Etienne, Caribbean Public Health Agency (CARPHA) Executive Director Dr. James Hospedales and other regional health officials.
The club is expected to promote health and wellness through education, physical activities and members, who are mainly senior high school students and young adults, will be trained to perform basic tests, like blood pressure and sugar.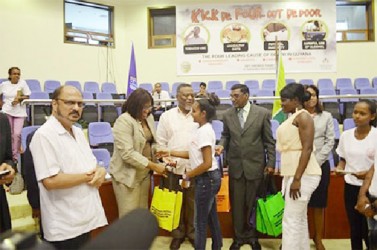 The club consists of 10 wellness warrior chapters, which would be each managed by coordinators. The headquarters will be instituted soon at the Campbellville Health Centre, where club members will carry out both theoretical and practical aspects of the programme.
At the launch, Chief Medical Officer Dr Shamdeo Persaud said obesity and physical inactivity is becoming a growing trend in Guyana as the country continues to progressively evolve into an urban society.
He said it was therefore crucial for health and wellness to be restored. He said the figures for NCDs are increasing and a sizable portion of the population is falling ill with chronic illnesses or dying from them.
NCDs are the leading cause of deaths around the world, except in Africa. Every year 35 million people die from chronic diseases, which account for more than 60% of deaths. They are the main cause of morbidity and mortality in Guyana and account for over 60% of deaths amongst males and over 70% of deaths amongst females.
The four major chronic NCDs are cardiovascular disease, which accounts for 17.3 million deaths yearly; cancers, which are responsible for 7.6 million deaths; respiratory disease, which are responsible for 4.2 million deaths; and diabetes, which accounts for 1.3 million deaths. In total, these four diseases account for approximately 80% of all deaths by NCDs.
Poor diets, physical inactivity, alcohol and tobacco use are the main behavioural factors which lead to NCDs.
Persaud stated that it is the Ministry of Health's objective is to promote healthy, active lifestyles through the works of the Wellness Warriors.
These warriors will encourage people in communities to become more conscious of their health and wellbeing. They will support medical outreaches and screenings conducted by the ministry.
Dr. Etienne handed over equipment, including testing apparatus and kits, to club members on Friday. She said if the present generation fails to the address NCDs, then the future ones suffers the consequences.
"We cannot afford to lose 60 or 70% of our population at any age when they are most productive… and, therefore, today I want to reiterate and call each of you to do something.
The Caribbean has a good track history of being the first to stop the transmission of measles so we can do it. Let us make the Caribbean a healthy place not just for the people coming to visit us but for ourselves," she charged, while noting that people need to get active and be more conscious of their diets.
"We must make physical activities part of our daily routine. The Americas is the most obese region in all of the world so we have an obese problem," she said.
Around the Web