Every morning she wakes at 4am and starts her day, her morning centred on sending her three children to school. Once they have left she focuses on earning a living, but ensures that she returns before they get home.
It is a daily struggle, but not every day is hectic because since she does not have a permanent job there is often no means of earning some much needed cash to meet the needs of her children. There are a few jobs available, but it is difficult since if she accepts them she is faced with the problem of having to leave the children alone for hours, a situation she does not want.
She is a 38-year-old mother of three who has been separated from her husband for the past three years. Although the system does not regard her as a single parent – she is still legally married and the father of her children is alive – her story mirrors that of many women who are left alone to fend for their children and themselves.
"It is difficult; most mothers don't want to leave their children at home but what do you do when your children are hungry?" asks the woman, as she contemplates a recent announcement by Minister of Human Service & Social Security Jennifer Webster.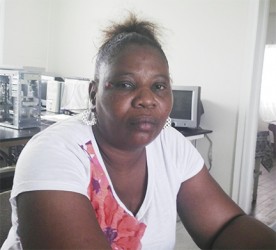 Minister Webster was referring to mothers like her when she declared that parents guilty of leaving their children at home unsupervised would be charged. This move, the minister said earlier this month, was in order to send a strong message.
A strong message to whom? asked the single mother of three further wondering what message the minister is sending. Is it one where you stay at home and watch your hungry children instead of attempting to earn some money?
It is true that there have been some cases of children left unattended while their mothers were out partying or were found in a rum shop, but according to Red Thread activist Wintress White even those mothers need help instead of incarceration.
Criticizing the minister's statement White pointed out that people have different coping abilities, and because of pressure, life may have become a burden too heavy to bear so some women may just look for a way to free their minds. White made it clear that she is not supporting the actions of these mothers, but maintained they should be given assistance instead of being placed behind bars.
However, she said that most women leave their children unattended in their quest to earn a living. Furthermore, most of the jobs available to these mothers are as security guards, waitresses or domestic workers, all of which require them to be away from home for significant periods.
In her recent interview with this newspaper Minister Webster said that ministry would be charging parents who are in the habit of leaving children unsupervised at home. She then mentioned a case where a 10-year-old was found in a house in Sophia, cooking and caring for a baby. "That is not really what the law says," Webster said, and added that the move is to send a strong message to parents.
'Headed by women'
During a recent interview with the Sunday Stabroek White pointed out that most single parent homes consist of poor families headed by women, and like the single mother of three she asked if a mother should go out and earn as opposed to sitting around and watching their hungry children.
"Women don't work for enough money to put bread on the table, [so] where would they get money for baby sitter or day care?" White asked.
Notwithstanding the criticisms Minister Webster is standing by her statements arguing that a number of parents are negligent about their parenting role, leaving children very vulnerable, and in many cases it is not due to poverty or lack of support.
"Poverty is not criminalized in the Childcare & Protection Agency, and various forms of assistance are provided to poor families to take better care of their children through our various social safety net programmes," the minister said in an emailed interview with this edition.
However, she said there are parents who wilfully disregard their parental responsibilities and these "must be firmly dealt with under the Childcare & Protection laws such as the Protection of Children's Act (2009)."
White said that instead of the minister sticking to her guns she should instead implement programmes that can better cater for single struggling mothers. The $1500 school voucher is just a penny in an ocean, she said, adding that the $10,000 per child assistance from the Ministry of Education, which is yet to be implemented, will be welcome but would not help the households that really need assistance in any sustained manner. The $5,900 public assistance was another sore point for White as she pointed out the daily hike in food prices, and while some might argue that the women should get a better job White begged to differ, as she noted the quality of the education system.
For its part the human services ministry has made several attempts to assist poor households, but critics have long since claimed that the programmes are never well thought out and while they offer temporary relief there is seldom any thought given to long-term assistance.
Apart from the public assistance, the $1500 per child voucher to be spent on school supplies and the $10,000 a child grant (still to be distributed) the ministry in 2009 had selected some 712 single parents who received $1,000 a month from the government to assist with daycare fees for their children.
Those parents represented the first set of single parents to benefit from the Single Parent Fund that had been announced a year earlier by President Bharrat Jagdeo. At that time Minister Priya Manickchand had said the parents were selected from a database of some 30,000 single parents who registered to benefit from the fund. The government had set aside $8 million for this initiative while another $50 million had been set aside to assist single parents by training and equipping them with a skill and to assist them in starting small businesses.
And in her presentation to the National Assembly last year Minister Webster had announced that government planned to introduce night-care facilities for children of single parents with night jobs.
Asked about these two projects Minister Webster said that her ministry through its Childcare & Protection Agency will be recruiting staff to intensify and execute its early childhood development programme. According to her this programme, apart from registering and licensing daycare and night-care facilities for children, will ensure that children are exposed to a healthy and safe environment with optimum early childhood experiences.
"The CCPA will work towards collaboration with civil society for sponsoring day/night-care services, making it readily available and affordable to all who are desirous of accessing such services," she disclosed.
As for the daycare allowance she said while that was given to single mothers in 2009 it was a pilot project, but with the passage of the Child Care Services & Development Act 2011 and the launching of the ministry's early childhood development programme this will again be addressed.
 'No support'
Meanwhile, both White and the single parent interviewed by this newspaper indicated that members of communities are no longer supportive of each other, and while in the past a mother could have asked a neighbour to look after their children this is no longer possible. Barring the risk of the child being abused, White argued that everyone "has to hustle because of the system that is stifling poor people."
"Communities usually are the judge and jury of your situation and would come out all supportive when something bad happens, but before they offered no assistance to the mother who needs it," the single parent said.
For her part she expressed the view that some parents should have to answer for leaving their children in unsafe and unkempt environments, because even if they are poor they should take some pride in their children and their surroundings.
And while the Women of Worth (WOW) programme helps single parents access loans to start small businesses, the woman believes that it is not reaching those who need it because of the mountainous list of requirements.
"If I had all of that, like twenty-five percent of the amount needed, I would not go for a loan I would start my business," she said.
For this mother having the father of her children is of no help, as the man refuses to assist with the support of the children. She has gone through the struggle of seeking the court's assistance but her husband has repeatedly claimed that he is not working and as such cannot offer assistance. He sought the help of the Legal Aid Clinic to file divorce proceedings, effectively blocking her from seeking similar assistance from the clinic, but he has not filed the papers. The woman wanted to know how her husband who does not work still pays a lawyer to attend his court proceedings, and called on the justice system to find ways of ensuring that men honour their obligations to their children. Her husband owes over $300,000 in support for the children as ordered by the court.
"Me as a single mother when parents were shopping in August for school supplies I was wondering where I getting money from," she said, adding that she was busy running to the court in an attempt to access some money.
Come November 1 she starts a job, but even as she is elated she battles with the decision of leaving her children unattended during the afternoons while she works. Her parents helped her with a small chicken business, but she was unable to continue because she spent out the proceeds leaving none "to turn over the business."
Meanwhile, White said while the struggle for this single parent is real it is worse for others who can hardly afford a roof over their heads. She spoke of the mothers who are forced to leave their young daughters unattended who in turn become sexually active at a young age.
"They [the children] don't have and when someone would offer they would accept not understanding the danger and eventually they become sexually active," White noted.
"It is high time to wake up and realise the reality of poor people living in a harsh country like Guyana," White said of the authorities, who fail to acknowledge that parents cannot pay for the utility bills that are necessary for their very existence.
In relation to the argument that some women have too many children and by different partners, White angrily pointed out that no women went out wilfully to have "children upon children."
"You have to be in to understand it…some women in challenging time tek a chance; it is not that they want to get pregnant but the man might not want to use a condom and she wants the money to buy food… And look at the cost for abortions or the risk if they go to just anybody."