Technical difficulties, including a blackout, couldn't stop creator of The Vagina Monologues, Eve Ensler from eliciting roars of laughter from audience members during her presentation at the Theatre Guild on Monday night.
The women's rights activist was the special guest speaker during a presentation of the Caribbean One Billion Rising Revolution hosted by the Caribbean American Domestic Violence Awareness (CADVA) Inc.
Ensler read excerpts from The Vagina Monologues which hit the men and women in the audience with awe and a greater sense of self-awareness.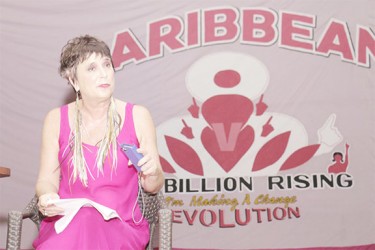 Ensler's poignant excerpt from the Monologues called "My Village is my Vagina", written during her many years working with raped and abused women in the Democratic Republic of the Congo, caused many women on the audience to reflect on Guyana's own history of silencing women affected by domestic abuse.
She spoke passionately about women's rights to reclaim their sexuality stating that for far too long women continued to be beaten, raped and held hostage in every country across the world when in fact women's rights is the future.
All was not serious however. During Ensler's presentation her accents and her theatrics had the audience's full attention, even as the lights went out halfway during the show. Ensler made the best of the situation even claiming that the lack of lights promoted a more intimate feeling where the audience could be more engaged with the monologues.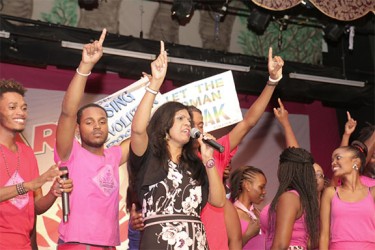 Dianne Madray of CADVA became overwhelmed when she addressed the audience after the production noting that she was frustrated with the government and the Human Resources Ministry's attitude towards violence against women in Guyana. Madray said that more needed to be done; a revolution needed to happen to bring an end to violence against women in Guyana.
The various skits put on by actors and dancers reflected the constant media headlines where DNA evidence was needed to identify bodies of women who are dumped and discarded. The skits reflected the ways in which rape occurs: subtly and by persons who women most often trust and depend on. The production "Let the Women Speak" had its foundation in encouraging Guyanese women to speak up and refuse to be silenced by domestic violence.
CADVA member Tiffany Jackson spoke about overcoming her own trials with domestic abuse, which to this day has left her vision severely impaired.
The stories of survival impressed upon audience members the need to keep the dialogue going on ways to stop domestic violence by making it a societal issue that gets talked about and not hushed away.
"Let the Women Speak" was hosted a day after CADVA's panel discussion on the 'State of Female Justice' held at the Pegasus Hotel on Sunday night. The initiatives all fall under the One Billion Rising worldwide movement.
Around the Web