Relatives and friends of former MFK Trading owner, Mohamed Khan who has been missing since August 21 believe that the decomposing remains of a body and a head found last month are his but will be depending on a post-mortem examination scheduled for today to confirm their suspicions.
One of Khan's cousins told Stabroek News yesterday that while the man's wife who resides in Venezuela has identified a belt and pants that were on the corpse as being his, there is still a bit of doubt. He is adamant that if the post-mortem examination reveals that there was a gunshot wound to the stomach, then that would confirm that it is indeed Khan. Khan was shot on July 9 in what he had described as an attempt on his life.
Based on what this newspaper had gathered, a nephew and Khan's ex-wife decided to go to the police to inquire about the decomposing remains. Late Thursday afternoon the duo who were in the company of a policeman went to the Lyken's Funeral Home where the remains are being stored.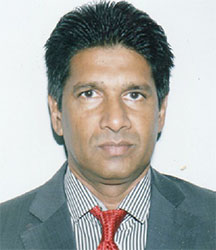 According to what was relayed to this newspaper, photographs which included images of a belt and pants were taken and sent to the man's wife in Venezuela. The woman confirmed that the items belonged to her husband.
One of the man's former employees said that Khan was last heard from on August 21, four days after he had arrived from Venezuela to transact business. The man who requested that his name be withheld from publication said that Khan was supposed to meet with him later that week, but after Khan never contacted him he figured the man had returned home. The former employee said he only became aware that Khan had not contacted relatives when he received a call from the man's wife in Venezuela, enquiring about his [Khan's] whereabouts.
Subsequently a missing person report was filed with the Guyana Embassy in Venezuela and a missing person's report was published in the Kaieteur News on October 12.
Crime Chief Leslie James when contacted yesterday stated that a post mortem will be done on the body shortly. Thereafter, the Force will take the necessary steps which may include DNA testing which will have to be done abroad, he said.
Meanwhile, the cousin recalled that about a month and a half ago, Khan visited his home located in the West Coast Demerara area in the company of his two daughters. He said that the man told him that he was going to Venezuela and would be returning to Guyana at a later date to follow up a matter he had with the police. The man said that after he learnt that Khan was missing he still did not link him to the body that was found because he felt that if anything had happened it would have been three bodies not one. He said too that the location where the remains were found also did not raise any red flags in his mind. "I didn't put two and two together", he said.
On September 22, a headless, badly-decomposed corpse believed to be that of a male was found in a drain at Cummings Lodge. The head was found in a plastic bag a few feet from the body. Additionally the feet of the corpse were missing; one from the ankle down and the other from the knee down. Based on the state of the body investigators were unsure whether the feet had been removed by dogs or severed prior to or after death. It is suspected that the person was killed elsewhere and his body and head dumped where he was found.
The cousin who pointed fingers at a soured business deal as being the motive behind Khan's disappearance and possible death, indicated to this newspaper that there was a "price on his head a long time now". He said that whoever the body belongs to was tortured.
He said that while the wife had positively identified the pants and the belt there is still some doubt that it is him. He is hoping that the post mortem will confirm whether it was him.
Meanwhile, a relative residing in the United States told this newspaper by telephone that the family has to gather and discuss the way forward. The man explained that during the latter part of August, Khan had telephoned his sister who lives in the US. After then he made no contact with her which was unlike him, the relative said, adding that he would normally call his sister to check up on her. According to her, from that day he "just disappeared".
He said that relatives tried calling him on his cellphone but the calls kept going straight to voicemail.