The last time Dr Patricia Rodney saw her husband Walter alive was a day like any other in which they synchronized their activities around those of their three children, ages 14, 11 and 9 years old at the time. Though their situation was far from idyllic, their marriage was a happy one that ended far too soon.
Testifying during the Commission of Inquiry (COI) into her husband's death last week, Mrs Rodney shared some details of her life and 15-year marriage to Walter Rodney.
Patricia and Walter Rodney married in 1965 in London, England and subsequently had three children together. Shaka, was born the very next year in England, while Kanini (1969) and Asha (1971) were born in Tanzania.
According to Dr Rodney, her husband was "very fun and loving" and enjoyed dancing "as any teenager did."
She added that though her husband was extremely brilliant, he was never arrogant about it.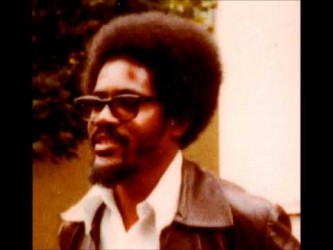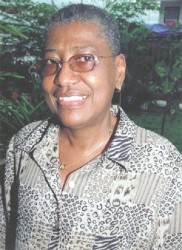 "He was very forthright and honest and he made complex things seem very simple. Everybody knew about his brillance but that never took precedence over the kind of person he was. He was a very simple person: he would walk into this room and you wouldn't know who he was. He was a very low-key person. He wasn't a show-off, he wasn't arrogant."
She said Rodney was very affable and was able to relate very well with persons, regardless of their backgrounds.
"He also was a very kind and thoughtful person. I was very impressed by his capacity to relate to a wide cross-section of people at that time," Mrs Rodney said.
This drew attention to him and constant surveillance interrupted the family's happy life. This surveillance, she said, began as early as in England.
"Once Walter became a speaker, people started coming in large numbers because he was speaking about the role of West Indians and other immigrant workers and their contribution to the British system and the way they were being treated," Mrs Rodney explained. She added that once he began to do that he began to be noticed.
Despite the surveillance, Rodney continued his work and expressed the belief that the working class must be constantly engaged and fought for.
"He was committed to ensuring that the working class had a good quality of life so he was involved at the community-level, wherever that was," Mrs Rodney said. "Walter always saw the working class as the vibrant class, the production class, so his focus was on working people."
Patricia said it was this same approach that he took upon their subsequent return to Guyana.
"In Guyana he got involved in bottom-house meetings…, I think it was the same approach, wherever we lived Walter was the type of person who didn't isolate himself in a community…. For an educated man, he had all these working class friends. I don't think Walter ever forgot where he came from; that his parents were working class people."
She explained that the decision was taken to return to Guyana as Rodney believed he "owed it to the working people." Also, their children had never met their grandparents.
Rodney was "excited to return to Guyana" and had stated that "even if he had to drive a taxi to support his children" he was determined to return, she recalled.
But he did not have to resort to taxi work; he was offered a position as a lecturer at the University of Guyana in 1974.
Soon, their life back home began to be marred by constant harassment. Dr Rodney explained that their home was subjected to numerous searches which started subtly but intensified as the years went by. It did not just touch the two of them, but also extended to friends, relatives and particularly the children.
She recalled one incident where a friend of the family, whose children would carpool with hers to school, broke off contact. "Subsequently, we heard that he had been told to stay away from the Rodneys, that they were a bad influence; so eventually even the children stopped coming to play with my children."
The harassment eventually reached the level where the Rodneys would resort to the use of safe houses while their children were shipped off to relatives for protection.
"My daughters stayed with relatives, my son stayed with friends, and Walter and I stayed at what were called safe homes or safe houses," she said. "I never knew where the safe house would be at the time. We couldn't stay at the same house every time, we had to be changing houses. So, somebody would offer their house and we would stay there."
Nevertheless, they tried to maintain a level of normalcy in the lives of their children, who had a number of activities including music and dance classes and frequent outings with their parents. Their father, in particular, spent much time with them.
"It was getting quite scary… At one point we talked about me leaving Guyana and going to stay with friends at other places… Walter always told me not to allow fear to make me a prisoner in my own home… He was very conscious of what was happening but he felt he had a commitment in doing the work he was doing by building the solidarity of the people in Guyana."
'The last time'
June 13, 1980 – the day of Walter Rodney's death – had begun just as any other day. According to Mrs Rodney, the day had been well-planned. They were to further discuss their plans to move to Zimbabwe, where Rodney had been offered a lecturing position. They ran errands before working out transportation arrangements for the night ahead.
The two older children, Shaka and Kanini, were to attend a farewell party for a friend of theirs, while Mrs Rodney and Asha, the youngest, would attend a film show at St Agnes Primary School.
Rodney was to drop everyone off at their respective events before heading to his 7 pm meeting with the man now identified as Gregory Smith, his accused killer. He was also scheduled to pick them up when his meeting was finished.
However, when his brother Donald showed up at their home before their departure; it was decided that he would drop Rodney to his meeting in his car.
"Walter told me… You take the car and we'll meet back home' after the meeting and me picking up the children from their various activities," Mrs Rodney said. She added, "So I proceeded; I left and that was the last time I saw him."
She was at the film show with Asha, when she was approached by Father Malcolm Rodrigues, a close family friend, who told her they had to leave.
"I walked with him to the door and he said, 'Walter has had a terrible accident' and I said, 'a car accident?'" Patricia recalled.
But this was not plausible, as she knew Walter was a very careful driver. She went on, "He said, 'no, it's worse than that', that Walter had been killed."
They left to pick up the other two Rodney children with Fr Rodrigues in the driver's seat. "I didn't feel like I could drive," Rodney explained before dissolving into the tears that had been threatening.
When Shaka and Kanini got into the car and were told that something had happened to their father, Kanini said, "He's dead, isn't he?"
New start
Less than three weeks after her husband's death, Dr Rodney moved with the children to Barbados.
However, she first had the terrible task of burying her husband.
She recalled that after gathering up the children that fateful night, they made their way home, only to be visited shortly after by police officers. Rodney's parents had also been subjected to the same treatment and Edward Rodney, another of his brothers, had been arrested.
The officers, she said, apparently aware that Rodney had been killed, nevertheless questioned with a smile, "Where is your husband?"
She added that she was not able to see Rodney's body for days following his death and it took even longer for it to be released.
When she was finally allowed to see her husband's body, Dr Rodney realized that his beard had been burnt off while there were several cuts on the sides of his face. However, she was able to easily identify him.
She stated that Fr Malcolm, who had gone with her to identify the body, did not allow her to see more than her husband's face owing to the extent of the damage.
In Barbados, Dr Rodney moved from home to home while trying to maintain some sense of normalcy for herself and her children. She took up a job which allowed her work time to coincide well with her children's school time. She said at the time she did not want to move out of the region because it afforded her children the opportunity to understand their roots and Barbados was the most politically stable Caribbean country.
It was extremely difficult being a single-parent mother with three children and she was unable to collect her husband's life insurance because of issues with his death certificate; an added blow.
Asked how she managed to cope, Dr Rodney paused for a long moment before responding in a cracking voice. "It's a miracle; it really is. I think I got the strength to manage because of my three children. I don't know if I could have managed without them. I knew that I had to be the one to protect them and care for them.
"I wasn't sure how I was going to do it but I knew that I could do it. I am not sure where that inner strength came from; I can't really analyse it but I supposed I'm a fighter, a survivor. I refused to give up despite all that happened. It's never been easy; it's always been a struggle and it continues to be a struggle."
Decades later, her husband's absence haunts her.
"He's ever present. Every time I look at my children, at my grandchildren… My oldest grandchild is six and she asks constantly about her grandfather. He's ever present in our consciousness; we miss him most on special occasions.
"One minute somebody's alive and the next minute he's dead and we know death is inevitable but it's the horrific way that he was killed; even now it's hard talking about it.
"But I always thought that whatever I was doing and the decisions I was making, Walter was there; he's always with me, present in my life. His presence is always there."
Mrs. Rodney further said that her husband's name has extended around the world with several countries across the continents paying tribute to the man. She expressed hope that the same respect will be afforded to Walter in his home country, Guyana.