Passengers travelling on the MV Sabanto, one of the Chinese ferries that traverse the Essequibo River, were traumatized and shocked when the captain somehow lost control and the boat ran aground at Wakenaam yesterday morning.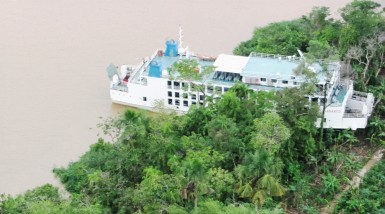 According to information, the ferry left Parika at the scheduled time (midnight on Sunday) was heading to Supenaam. It was in the vicinity of Wakenaam when the mishap occurred.
According to a press release from the Transport and Harbours Department (T&HD) it is currently investigating the circumstances which resulted in the MV Sabanto running aground on to Wakenaam Island.
T&HD said the mishap reportedly occurred at around 00:35 hrs and no injuries were reported.
Passengers disembarked "at first light by water taxis which responded to the vessel's distress," the release said.
It added that assessments by mariners, marine surveyors and engineers are currently underway to initially determine damage to the vessel and the best method of safely removing it from the island. It noted that favourable tides which will help a refloating operation by means of tugs are anticipated at the upcoming weekend.
In the meantime, T&HD said, efforts will be made to take off – by dumb barge – the three trucks and seven cars still onboard. It said too that traffic movement will be maintained at normal levels by a doubling up of the runs of the MV Kanawan and MV Malali.
The T&HD said it sincerely regrets the inconvenience caused to commuters.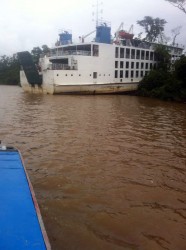 Meanwhile, when this publication visited the Good Hope (Supenaam) stelling, a speed boat monitor said they learned of incident at around 1.15 am yesterday.
According to the monitor, he was told that, "The boat was travelling at the normal rate of speed but then just as it was coming out of the turn, the boat run up in the trees. People start to scream and everybody start to panic."
According to reports, passengers became scared and retreated to the back of the ferry. "After they calm down lil, they had to wait until a speed boat come to take them off," the monitor related.
All the passengers on board were safely transported to Supenaam by a speedboat operator, Bovell (only name given) who promptly responded to the calls for help from passengers.
Stabroek News was told that the passengers were forced to disembark from the left side of the ferry and those with vehicles had no option but to leave them there.
A close relative of a passenger who was on the ferry said that passengers had to wait on the boat for several hours before being rescued.
"I am very upset about this whole incident because people could have lost their lives. Imagine all dem people vehicle and valuable that coulda destroy. These captains need to be more responsible," the woman added.