The Mibicuri Community Developers (MCD) last week commissioned their $20M facility, which was upgraded via a grant from Japan's Grant Assistance for Grassroots Human Security Projects (GGP).
At a commissioning ceremony, Takafumi Ura, Second Secretary, Em-bassy of Japan expressed pleasure about the renovations. "Today we can see the fruits of our labour and I am truly pleased that this much anticipated closing has arrived," he said. "The Republic of Guyana is now developing at a rapid pace; we know your country has great potential, and is most deserving of development project such as this. Community development is a grassroots process by which communities seek to improve their quality of life," he added
Ura also noted that community development depends on the linkages between social, cultural, environmental and economic matters as a part of a conscientious effort to enhance the community. "[This] ceremony demonstrates how strong bilateral relations are built, not only through inter-governmental interaction and cooperative efforts on a community-based level," he said. He also hoped that residents, particularly youth, would capitalise on the services offered at the training centre.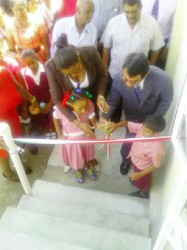 The grant was used to expand the rooms used for counselling and referral services, skills training, a playschool and office, which all serve the residents of Black Bush Polder.
The new building also houses an information technology centre and kitchen to be used for training in the culinary arts.
At the commissioning, 90% of the works had been completed even though there is a January deadline. On March 10, MCD leader Jacqueline Cummings-Johnson and Ambassador of Japan Yoshimasa Tezuka signed a contract to green-light the project. The cheque was handed over at signing ceremony.
In his remarks, Region Six Chairman David Armogan expressed gratitude to the Government of Japan on behalf of the Guyana Government for the building.
He said Japan has been a great friend to Guyana and this latest project was another demonstration of the fertile relations between the two countries.
Armogan also highlighted two other projects the Japanese Government has provided: the New Amsterdam Hospital and the Corriverton water treatment plant.
Armogan further noted that he was very impressed with the quality of work done on the upgraded community building and he too hoped that the youths would utilise the facilities. He was particularly hopeful that persons would access the counselling services offered because the community has a high suicide rate.
The Peace Corps Guyana also pledged to support the programme. Flavio Rose, Response Programme Coordinator at the NGO said he would ensure that the new facility is equipped with volunteer specialists for the different programmes. Additionally, Food for the Poor (FFP) Guyana CEO Kent Vincent pledged his charity's continuous support to the group and community.
Other dignitaries at the ceremony such as Alex Foster, President of the St Francis Community Developers and Thakoor Persaud, Chairman of the BBP Neighbourhood Democratic Council also lauded the project.