As the Millennium Development Goals (MDG) 2015 deadline approaches, government officially launched Guyana's MDG Acceleration Framework and Campaign yesterday aimed at improving maternal health.
Finance Minister Dr Ashni Singh reaffirmed government's commitment to achieving all MDGs and called for more accelerated action by the global community to achieve MDG Eight, which is to develop a global partnership for development. Singh delivered this charge at a meeting held at the Herdmanston Lodge which included Health Minister Dr Bheri Ramsaran, United Nations Development Programme (UNDP) Resident Coordina-tor Khadija Musa, PAHO/WHO Repre-sentative Dr William Adu-Krow, United Nations Population Fund Representative Patrice LaFleur and UNAIDS Country Director Roberto Campos and other members of the diplomatic corps.
The MDG acceleration framework was published by the Guyana Government in collaboration with UNDP with a view to speeding up the progress to achieve maternal health related targets, a report from the Government Information Agency (GINA) said. The 72-page document is a comprehensive articulation of the nature of maternal mortality, priority interventions required and identification of resource gaps where they exist, based on countrywide consultations with stakeholders, communities (targeting men, women and teenagers) and health care providers. Visits were also made at key hospitals, GINA said.
"If we recognized that poverty reduction, poverty eradication, social development as articulated by the UN General Assembly resolution four decades ago, as by the MDGs, if we recognized the public good nature of development in that context, then as a global community we have a role. It is indeed our interest to take the necessary action to achieve that global public good even if we are a developed country," Dr Singh said. While much focus has been given to the first and seventh MDGs, the minister said the architect of this framework recognized the importance of this global partnership for development as integral to the achievement of the other goals.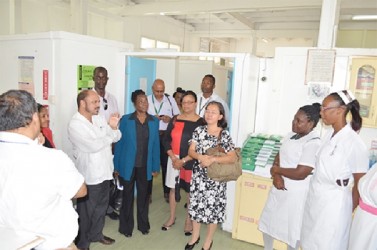 While Guyana is on track to meet the other MDGs, it lags behind in Goal Five: Reducing maternal mortality and achieving universal access to reproductive health. Maternal mortality has decreased significantly in Guyana over the past two decades, and has moved from 325 per 100,000 live births to 1990 to about 100,000 live births, but the challenges of meeting Goal Five are quite public. There have been 16 reported maternal deaths this year. Dr Singh noted that every single maternal death is an incident that should not occur. However, he remains "convinced that these incidents should not occur and we need to get to a point where none of these incidents occur." The minister also acknowledged the efforts of health workers whose commitment have resulted in thousands of incident-free delivery and births every year.
Government has invested heavily in the social sector (education, health, water and sanitation) to the value of about 205 of the national Budget. "It is therefore no accident that we have been able to achieve so many of the key social sector MDGs, like universal primary education, …progress…towards gender, environmental sustainability and sanitation and towards health indicators equality in the social sector with almost 29%," he said. "I wish to assure you that our Government is committed to achieving all of these MDGS and will continue to work with our developing partners to ensure that there are resources to ensure their achievements are mobilized."
Eighty-five per cent of births are recorded at five major hospitals countrywide which means that there is a decrease in the number of births that was being in informal conditions which is a significant achievement, according to the minister. The ministry has also been able to address the need for quality health services and qualified and competent health personnel. Blood and blood products have also been made available through the National Blood Transfusion Service (NBTS), as one of the major causes of maternal deaths is hemorrhage. Last year the NTSB harvested 11,148 units of blood, double the amount it has obtained in previous years.
In her remarks, the UNDP Resident Coordinator said the meeting provided a wealth of information on the challenges and progress towards achieving MDG Five. Musa commended government on its commitment to reaching the goals as Guyana has demonstrated leadership on this issue.
Around the Web