By Sharda Bacchus
After 18 years at Wilderness Explorers, General Manager Teri O'Brien on November 21 won the 'Pillar of Tourism Industry' award when the Ministry of Tourism held its eighth annual Tourism Awards ceremony.
O'Brien told Stabroek News that her tenure at Wilderness Explorers has so far been remarkable. Expanding, she recalled a visit to Mount Roraima with National Geographic back in 2005. There were 18-odd persons but when the crew involved in handling and managing it was added, there were 50 persons. "It was considered challenging since tourists were climbing the mountain from the Guyana side which is not a usual trip," she said. The level of involvement for varying people and the logistics of handling the trip added to the challenge. She recalled also that at that time, there was one helicopter in the country which belonged to the Guyana Defence Force (GDF) and they had to use that for the trip which lasted for several weeks.
She said that a lot depended on the lighting conditions and weather, among other factors in the area. These determine how an aircraft can get there, since if it is overcast, landing is impossible. "But amazingly we were successful," she said.
She also recalled the time when the largest ever cruise arrived here with 900 passengers onboard. "At that time there were no transportation systems so we were literally flagging vehicles down, inspecting them and asking [drivers] if they were willing to work for the day," she said. Now, however "there is the Knight Rider Bus Service that we can ask for any number of vehicles and we will get in it any size as we desire," she said.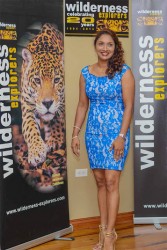 Wilderness Explorers offers professional services to clients/tourists by way of trips to various parts of Guyana such as Rock View Lodge, Mount Roraima, Arrow Point, Shea Rock, Caiman House, Iwokrama Canopy Walkway and Atta Rainforest Lodge, just to name a few of the many offered. Activities such as bird watching, trekking, boat trips, cattle roundup among many others are also experienced.
Wilderness Explorers has also handled logistics for other film crews such as from the British Broadcasting Corporation (BBC) to the Discovery Channel. In addition Wilderness is known for custom designing itineraries to suit the desires of tourists. O'Brien said Wilderness aims to provide quality tours to make clients happy.
She said the company's main product is Guyana, although it handles tours in several other countries such as Suriname, Trinidad & Tobago, Dominica, St Lucia, Barbados, Grenada, Brazil, Venezuela and French Guiana. The company also managed Suriname Airways in its portfolio for 11 years and it still falls under Wilderness Explorers.
Speaking of the award, O'Brien said she could have been nominated to receive this award by various people. The nomination occurs when someone writes about the person who they think fits the category, O'Brien said.
"It takes a well-rounded person [in] an industry that understands the product very well to receive this award and I am very honoured to be the one receiving Pillar of Tourism Industry Award," she said.
Over the years, she has assisted in training through various programmes hosted by agencies such as the Guyana Tourism Authority. She added that it all depends on what assistance is needed and she just falls in.
When it comes to attracting tourists as a company and a member of the private sector, Wilderness Explorers goes after each market and also works with the government and the Tourism and Hospitality Association of Guyana (THAG) to ensure Guyana is marketed as a tourism destination.
"It takes team effort in trying to ensure we build Guyana as a destination," she said. O'Brien believes in any company especially small ones, there will be various challenges and strategic plans need to be laid down as to how to market Guyana and how to sell the product.
Wilderness Explorers has been the tourism industry for 20 years and the company is still strong and growing. Wilderness was awarded 'Most Outstanding Tour Operation' in 2008 and "Best Marketing Campaign" in 2011.
Around the Web