Residents of Mahdia can soon expect works on the potholed littered main thoroughfare in the community as Cabinet this week granted its no objection to a $329M road project.
The project would entail the construction of the road that links the Brian Sucre Junction to Backwater.
Cabinet Secretary Dr Roger Luncheon yesterday made the announcement at a post-Cabinet press conference informing also of another $304.4M project for upgrades to roads in mining districts.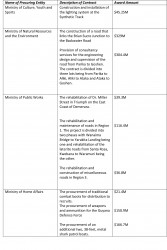 Residents of Mahdia had long cried out to government about the state of the roads in the Region 8 community and have over the months vented their frustrations.
They had bemoaned the potholed littered road, stressing that it not only created a humbug for persons travelling in and out of the community, but that the wear and tear on their vehicles was enormous.
The description of the tender and others that cabinet gave no objections to this week are shown in the table below.
Around the Web