Lucky Dollar's win and ride away competition will see nine customers who have spent $30,000 or more being eligible to win a motor bike for the Christmas promotion which commenced on December 1 and will conclude on December 23.
According to a Lucky Dollar press release, Denise Benjamin was the first winner drawn under the scrutiny of both internal and external auditors. Winners of the remaining eight motorbikes will be chosen from each branch and a weekly winner from the Lucky Dollar Regent Street.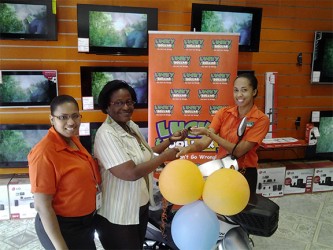 Besides the win and ride away, the release said, Lucky Dollar has a dollar down promotion, where customers will get 4 months interest free and up to 3 months free instalments on 24 months and over contracts.
.
Around the Web