Owner of the now defunct EZjet airline Sonny Ramdeo, who is facing up to 20 years in prison for wire fraud, is accusing US marshals of depriving him of his rights, destroying his legal paper work and removing him from the prison closest to the court where his matter is being heard on the basis that he has been "making trouble" which he has strongly denied.
In a hand-written motion, Ramdeo, who had pleaded guilty last year but withdrew the plea shortly after, is asking Judge Kenneth A Marra to issue an order directing the US marshals to deliver to him at the Federal Detention Center, Miami, Florida (FDC-Miami) his legal work, including the copy of documents he had submitted to the library at the Palm Beach County Jail (PBCJ) to photocopy and also to keep him at FDC-Miami at all times and transport him to his court appearances and immediately return him to the jail thereafter. He also wants the judge to order the marshals directing them to provide all details, documents and evidence of him "making trouble" at PBCJ so he can have a full and fair opportunity to adjudicate the matter, seeking any legal recourse. Another order being sought is to ensure that there is no retaliatory actions taken by the marshals against Ramdeo.
In the motion, Ramdeo stated that he had been housed at PBCJ for 15 months but on February 24 he was taken without good reason to St Lucie County Jail some one hour and a half away from the court and his attorney. He said there was no prior warning of this move and even though he advised that he had a court hearing on March 4, he was still moved.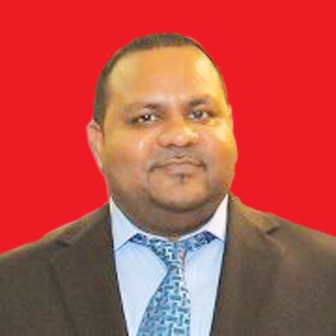 During the move, he claims, his legal paperwork was taken away as he was not given permission to take them with him, thereby depriving him of the right to properly prepare for the upcoming hearing. On the day of his hearing, he said, he was returned just in time for the court session but was not fed lunch and due to the deprivation of his legal work, lack of sleep and lack of consultation with his counsel he was unprepared for the hearing as he did not have all the evidence to present to the court. He got his paper work on April 11.
Early in May, Ramdeo said, he was again packed up and this time moved to FDC-Miami and again his paperwork was taken away and important documents he had taken to the library to photocopy were not uplifted. Upon arrival at the jail, he said marshals reportedly advised the authorities that he was transferred because he was "making trouble at Palm Beach."
"This is the first instance that the defendant has ever heard anything about making trouble," Ramdeo wrote, adding that the marshals did not provide any details as to what they were referring to.
He said during his time at Palm Beach he had never gotten into any trouble and pointed out that even if that were so the authorities should have followed disciplinary procedures, written an incident report and allowed him to confront his accuser.
EZjet went bankrupt amid the legal troubles caused for him when he was sued by his former employers in Florida courts.
The airline's service was suspended by the US Department of Transporta-tion in November, 2012.
The indictment against Ramdeo alleges that he wired money into his accounts that was to have been used to cover payroll taxes for Promise Healthcare and 11 of its hospitals, for which he was payroll manager. He allegedly formed two companies, PayServ Tax and EZjet GT, to receive the money, prosecutors say.
Ramdeo faces up to 20 years in prison and a fine of US$250,000 or greater on each count of conviction.
Around the Web