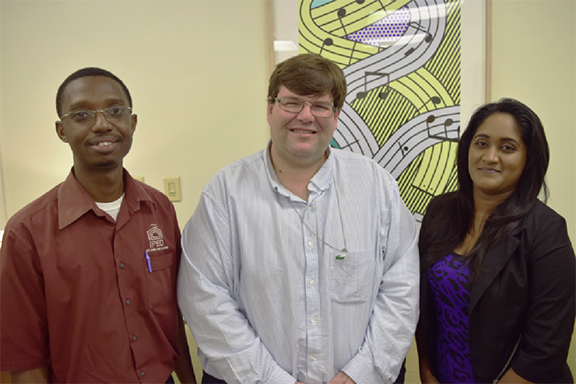 Chargé d'Affaires of the US Embassy Bryan Hunt met with two Guyanese on Wednesday, who recently returned from the United States after participating in the Embassy-sponsored International Visitor Leadership (IVLP) exchange programme.
A release from the US Embassy said that the Guyanese participants, Keyshawn Philander, Senior Audit Clerk with the Institute of Private Enterprise Development Ltd, and Nazima Raghubir, Editor-in-Chief for Insight Magazine, shared their IVLP programme experiences and outlined how they hope to apply the knowledge gained from their experience.
The embassy release said that Philander participated in a programme focused on "Entrepreneur-ship and Small Business Development" from November 10- 28, 2014.  The programme, with over 20 international participants, explored private-public partnerships, and university impact in research and development.
Raghubir, the release said, took part in a separate programme on "Investigative Journalism" from November 17 – December 5, 2014.  During her programme, Raghubir and her global counterparts examined the rights and responsibilities of a free press in a democracy and the principles and laws governing the press in the United States.  The release said that they also gained an understanding of the role that investigative journalists play in U.S. society by raising awareness of issues of social concern or by reporting on illegal, irregular or abusive actions on behalf of government, politicians or corporations.
Hunt, the release said, reaffirmed the U.S. Government's commitment to work with and strengthen the role of organizations and contribute to the improved well-being of Guyana's most valuable resources – its people.
He noted that the IVLP programme offers one of the best means to do so, as it fosters an exchange of new ideas with leading Americans and U.S. organizations.
The release said that the IVLP is the flagship professional exchange programme of the Department of State, which annually brings to the United States approximately 5,000 foreign nationals from all over the world to meet and confer with their professional counterparts and to experience America firsthand.
Around the Web