A Linden man was yesterday fined after he admitted to trying to rob an 89-year-old pensioner, whom he tried to strangle during the attack.
The charge against Wayne Gilkes, 52, of 170 Half Mile, Linden, read that on December 8, at 99 Republic Avenue, Macken-zie, Linden, he assaulted Norman Chapman with intent to rob him.
Gilkes entered a plea of guilty when the charge was read to him at the Georgetown Magistrates' Courts by Magistrate Ann McLennan.
"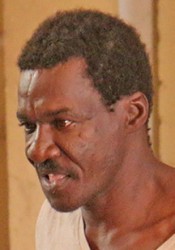 Mistress, I wrong, I totally wrong and I accept I wrong," Gilkes told the court before his sentencing.
According to Prosecutor Deniro Jones, Chapman had secured his home and moments after he heard a noise coming from the bottom flat. Upon making checks, he discovered Gilkes in his house and the man started to demand cash but was unsuccessful. This made Gilkes angry, Jones said, and he dealt Chapman several cuffs, kicks and even attempted to strangle him. However, Chapman managed to fight him off, after which public-spirited citizens ran behind him and caught him. The attack was reported and Gilkes was arrested and charged.
After his guilty plea, Magistrate McLennan fined Gilkes $50,000 with an alternative of nine months in jail.
Around the Web