Another inmate was yesterday charged with having marijuana in the Georgetown Prison.
Rudolph Nurse, who is serving a four-year sentence for break and enter and larceny, was remanded after he denied a charge of possession of narcotics that was read to him by Magistrate Ann McLennan in Georgetown.
It is alleged that on December 7, at the Georgetown Prison, on Camp Street, Nurse, 39 of Lot 622 'B' Field, Sophia had 8.5 grammes of cannabis in his possession.
Nurse pleaded not guilty to the charge.
According to Prosecutor Deniro Jones, at about 7:30am on the day in question, a prison officer carried out a search on Nurse and found seven black plastic bags containing leaves, seeds and stems suspected to be cannabis hidden in his crotch.
Jones also told the court that Nurse was showed the suspected narcotics and told of the offence and in response claimed he was using it for headaches.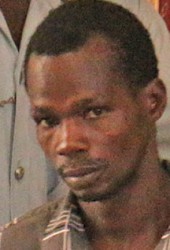 "I did get shoot in me neck and me head does hurt so I does use it," he was quoted as saying.
After a further investigation was carried out, Nurse was charged.
"My worship, on the day I did going out the building to brush my teeth when I see the parcel and I picked it up. When I did going to the office to give them, the security call me and take it into his possession. He opened the parcel and inspected it and send me back," Nurse told the court.
He said the next morning they called him out to go the hospital and when he returned they called an officer from Criminal Investigations Department (CID) to charge him.
"He come and charge me and say I could plead guilty and come back and do some community service or so because I done deh spending long time in prison," he added.
Nurse noted that he has been in prison for about 20 months and was outdoors during that time and had never been caught smuggling anything into the prison.
"I never involve me self, my worship, in no fighting, juk up, nothing. I go to church very often and believe in God," he added.
Nurse also denied the prosecution's claim that he stated he used the drug for his own reasons.
The case was adjourned to January 8 and was transferred to Court 5 for continuance.
There have been concerns about security at the Georgetown Prison in light of the growing number of inmates recently ending up in court for ganja trafficking.
Only last week, a murder accused was sentenced to four years in jail after admitting to trafficking in ganja in the prison.
Around the Web