Courtney Crum-Ewing, the former soldier who has been staging an ongoing one-man protest outside the Office of the Attorney General (AG), was invited to the Brickdam Police Station on Thursday for the second time in a week and was informed that he had caused a breach of the peace.
According to Crum-Ewing, he spent some five hours at the Brickdam Police Station after he was been invited there by a police officer.
Crum-Ewing's first trip to the police station, on December 5th, came about after he ventured into the compound of the AG's Chambers on the previous day and asked permission to use the washroom. He was granted permission but was challenged by the security guard as he was leaving. It was the next day, December 5th, as he continued his vigil that he was approached by the police and invited to the station. He was not charged with anything then, but was asked to return to the station on December 8 at 9 am.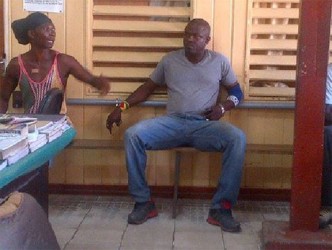 Yesterday again, Crum-Ewing explained, he was protesting when he was approached by the officer who invited him to the police station after receiving orders to take him in.
"I was at the station from 11 in the morning to 4 in the afternoon," he said. "I asked the officers there why I was there and what law I had broken. They told me that they are awaiting orders from upstairs to charge me."
He said that after the delay, a corporal informed him that he needed to sign a self-bail form, which he did. He was later released and informed that he needed to make an appearance at the Georgetown Magistrate's Courts yesterday to face the breaching of the peace charge. However, Crum-Ewing said, there was no charge at the court relating to him.
"They told me that I needed to go to Court 1 but I received information that all matters had been transferred from that court to Court 2, and I then found out that there were no charges against me at the court. I subsequently left. I went back to the AG Chambers and I continued my picketing," he said.
Asked how long he was going to keep protesting, he replied, "I will be going there (AG's Chambers) for as long as I can until he understands that the people would no longer be tolerating him in that office."
Crum-Ewing also made accusations that a government official had approached him three days ago and told him, "Anil ain't going nowhere you best go or else." He later made a report to the Brickdam Police Station.
In October, after hearing the leaked conversation between Nandlall and senior reporter of Kaieteur News Leonard Gildarie, Crum-Ewing said he became upset and shocked over the AG's remarks about a female reporter.
Crum-Ewing expressed his disgust in Nandlall's remarks and had served him a letter asking him to resign. He never received a response from the AG and has been protesting since, stopping only when he knew the AG was out of the jurisdiction.
Around the Web