Despite promises to place the rights of lesbian, gay, bisexual and transgender (LGBT) Guyanese on the front burner, the Government of Guyana came under fire last week in Geneva for failing to put mechanisms in place to combat sexual orientation discrimination.
The blame was cast by the Society against Sexual Orientation Discrimination (SASOD) during its submission of its report, "On Devil's Island: A UPR [Universal Periodic Review] Submission on LGBT Rights in Guyana," last week as part of Guyana's UPR pre-session. The report takes a look at Guyana's situation in regards to how sexual rights are viewed, particularly those of LGBT persons, a release from the body said.
According to SASOD's statement, Guyana's Constitution enables the repressive socio-cultural environment that limits LGBT persons' access to services by not making provisions for sexual orientation and gender identity as grounds for discrimination. Further, it was noted that in Guyana there have been at least five unsolved murders between 2013 and 2014 occurring amongst the transgender and homosexual society.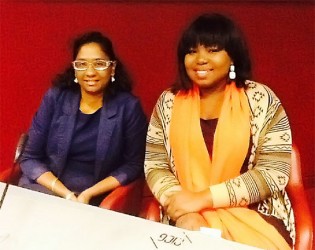 SASOD's Social Change Coordinator Chelauna Providence further said that these murders are attributed to high levels of homophobia, transphobia and hate speech in the public domain. She added that these are aimed at inciting malice against LGBT persons.
Child Link's Director Omattie Madray also made a presentation at the UPR session and opined that the Government of Guyana had done very little in the past four years to repeal laws that criminalise same-sex intimacy and cross-dressing. She noted that several recommendations had been made, with the government agreeing to host consultations on these issues.
Further, despite the government's acceptance of Argentina's recommendation to adapt laws and mechanisms to combat discrimination against groups in vulnerable situations, LGBT persons are still the victims of higher levels of unemployment and underemployment while those who are employed have no legal protection against discrimination due to their sexual orientation or gender identity.
"Representatives from Colombia and the Netherlands expressed particular concern about the situation of LGBT people in Guyana and the Government's responsibility to protect and promote the human rights of all Guyanese, including LGBT citizens," SASOD said.
Further, several recommendations for the government were proposed by SASOD, including the recall of Member of Parliament Juan Edghill who was blasted by SASOD for discriminatory remarks he made earlier this year. SASOD also recommended that Article 149 of the Guyana Constitution be amended to include sexual orientation and gender identity as grounds for protection from discrimination as well as the review of the sex and sexuality theme in the Health and Family Life Education (HFLE) curriculum to include objective information on sexual orientation and gender identity.
According to SASOD, a total of 22 missions with a diplomatic presence in Geneva attended the UPR Pre-Session on Guyana, including representatives from Latin America, West Africa, Europe and North America.
Guyana's UPR will take place at end of January 2015 and there the United Nations' Human Rights Council will respond to Guyana's report on human rights and make recommendations for improving Guyana's situation.
Around the Web