A young labourer is now dead after falling from a scaffold.
Kishan Mahadeo, 18, was laid to rest yesterday, two days after the accident.
Mahadeo, of Uitvlugt Sideline Dam, West Coast Demerara, was employed with A Forrester Lumber Yard.
He left for work before 8 am on Wednesday and met his demise about an hour later.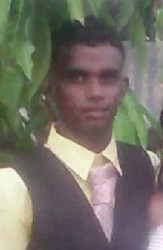 His wife, Dolly Deosarran, 17, said about 9 am she received the message about the accident. She hurried to the Leonora Cottage Hospital, where she found Mahadeo in an unconscious state and bleeding through his nose and mouth. He was transferred to the Georgetown Public Hospital in an ambulance about an hour later. He reportedly died on the way to the hospital.
According to other workers, Deosarran who was wearing long boots, had climbed 28 ft. up the scaffold when he slipped and fell as he was trying to catch a measuring tape that was thrown to him by another worker.
Reports are that he was screaming while falling and when he got to the ground he started to vomit. The police have launched an investigation.
Mahadeo's mother-in-law, Annette Deosarran, said she took care of Mahadeo five years ago after his mother died.
He became involved in a relationship with her daughter one year ago. They had both left her house and only returned later upon her insistence.
Around the Web