Mark Singh, who allegedly threatened to cut off his ex-partner's neck, will be spending Christmas behind bars after he appeared in court charged with threatening language.
The allegation against Singh, 40, of 184 Charlotte Street is that on December 11, on Charlotte Street, he made use of threatening language to Sujata Persaud.
The prosecution submitted to the court that the defendant, who is the father of Persaud's children, is in the habit of abusing her.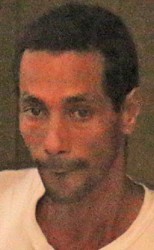 On the day in question, Singh went to Persaud's house and told her that he would cut off her neck, the court heard. She became afraid and reported the matter, which led to his arrest and charge.
Prosecutor Deniro Jones mentioned also that the complainant was previously served with a protection order.
When Magistrate Ann McLennan, who presided over the matter, asked Singh to enter a plea after the charge was read to him, he replied, "My Worship, guilty with explanation."
He apologised and asked for Persaud to be reunited with him. "A very sorry fu wah happen, a go behave meself and tek she back. I is not a bad person, My Worship. Is d lil alcohol wah meh drink," Singh pleaded.
But Persaud declined his request. "Is my children father, but I have someone else," she said. "I told him to back off. I want him to move on. He used to live with me but after the court problem, I put he out."
Singh was sentenced to three months' imprisonment while Persaud was advised to file for a new protection order against him.
Around the Web