Fifteen potential large-scale agriculture investors from Trinidad and Tobago scouted possible sites in the Canje Basin on Thursday as part of a year-old Memorandum of Understanding (MOU) with Guyana but deals are not likely anytime soon.
Trinidad's Minister of Food Production Devant Maharaj told Stabroek News yesterday that the process which has been ongoing since 2013, has taken some time, but that the MOU was practical mainly because large-scale farming was no longer an option in Trinidad. He said that in Trinidad land was available but large scale farming required 500 to 1,000 acres of contiguous lands, which Trinidad simply did not have.
At a press briefing held at the Ministry of Agriculture yesterday, Maharaj and Guyana's Minister of Agriculture Dr Leslie Ramsammy revealed that 15 potential investors had toured available land in the Canje Basin that could be utilised for large-scale farming.
Maharaj stated there were bureaucratic concerns with the MOU and this was the reality in undertakings of this type. He added that while it did seem like things were not progressing as quickly as they would like, the reality was that such investments take time, which would allow for serious investors to show their long-term commitment to any potential projects.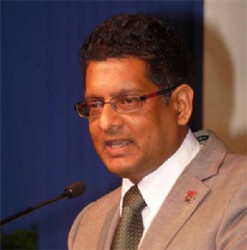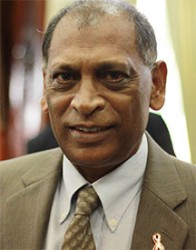 He said that that the Cooperative Citrus Growers Association (CCGA) of Trinidad and Tobago, which has had a large farm here for a number of years, was already a model for future investments.
So far, since the MOU on cooperation in the area of food security was signed in September of last year, this has been the first substantial visit by potential investors. According to Nigel Grimes of the Trinidad Food Production Ministry, the country began publicly advertising the agreement and the 10,000 acres of available land in Guyana in April of last year and for eight weeks proceeded to screen potential investors.
Grimes told Stabroek News that the number of interested parties far exceeded 15 investors but that a visit was arranged for the 15 first and other expeditions would later be arranged. The idea is to have potential investors see the available lands and to conduct additional scoping work. Once that has been finalised, the Agriculture Ministry will have to go through proposals.
Ramsammy told Stabroek News that this was a long-term plan and hence liquidity was essential as large-scale farming was not an overnight operation. Ramsammy stated that the investors were responsible for conducting scoping exercises. He said that the lands available in the Canje Basin and Intermediate Savannahs were suitable to grow certain crops and that investors would need to be aware of these things.
He emphasised that this was a long-term investment and it wasn't going to be a situation where potential investors come to Guyana and the land is ready for cultivation. He cited the success of the CCGA and the Santa Fe farm in the Rupununi, with the former currently cultivating 200 acres with an additional 200 undergoing preparatory work.
Ramsammy emphasised the medium to long term goals of the MOU. "We are not willing to lease a large amount that will just sit there," he said, adding that once investors showed real plans and goals Guyana was interested in partnership.
The minister was hesitant to provide timelines, noting that scoping exercises would take time and as soon as they were done the next stage of the MOU's partnership would evolve.
A technical cooperation committee between the two countries met on Thursday to discuss how to proceed once investors were identified and potential plans delivered. On Guyana's side the committee will be led by the Agriculture Ministry's Permanent Secretary, George Jervis.
Controversy at home
Maharaj touched on the controversy at home in Trinidad, contending that famers who were originally opposed to the MOU were politically-motivated. He told Stabroek News that large-scale farming in Trinidad was not feasible, especially relative to the sizes being talked about in Guyana, which are in excess of 500 acres.
The twin-island nation currently boasts over 10 commercial farms from 200 to 300 acres under the Commercial Large Farms Programme. Over two years ago, nine investors were given the go ahead by the Ministry to cultivate 27,000 acres in Trinidad, a move Finance Minister Larry Howai said would help reduce the nation's food import bill from TT$4 billion to TT$2 billion by 2015. Maharaj revealed the import bill was still approximately TT$4 billion.
In his 2013 budget presentation, Howai announced that an agreement had been reached between the two Caricom member countries that would provide 10,000 acres of land in Berbice for immediate agricultural production and that "a further 90,000 acres of Guyana's land would also be made available to T&T farmers.
Current state of affairs
Currently the MOU is still in its initial stages, with no confirmed investors and no firmed up projects. Neither Ramsammy nor his counterpart touched on areas other than the Canje Basin that may have been visited. Last year, teams from Trinidad visited several areas, including Mahaica-Berbice. While additional technical teams were here for the two-day period, no findings have been released from the technical visits last year after the signing of the MOU.
Out of the areas that were originally settled upon in the MOU, corn, soya, cassava, legumes, small ruminants and aquaculture, both ministers highlighted corn and soya as the most likely front runners.
Around the Web