Guyana's candidate at the Miss World contest in London today, Rafieya Hussain made it into the top 10.
She however did not advance to the final five.  The crown was eventually won by Miss South Africa. The 10 ten ranking for Guyana this year  is the highest since the 1970s in either the Miss World or Miss Universe contests.
Hussain was also named one of the five Beauty with a Purpose Winners.
This interview by Jairo Rodrigues with Rafieya Hussain appeared in the September 13th edition of Stabroek News
Rafieya Husasin taking her dedication and determination to Miss World
Rafieya Hussain believes that being a pageant title holder is a job that requires hard work, dedication and determination, because you're no longer representing yourself but a group of people, a country and as is the case with her current crown, the prestigious brand of Miss World. It is this belief along with her astounding beauty that the Miss Guyana World takes to the 64th edition of the Miss World Pageant, which is to be held this December in London.
Rafieya's platform for this pageant is domestic violence and many of the projects she embarks on are to find steps towards spreading awareness and educating young people on its initial signs in the form of dating violence. In an interview with The Scene, Rafieya said she believes violence against women, men and children results from the use of force or threats to achieve and maintain control over others in intimate relationships, and from societal abuse of power. She would like to work with schools and foundations to design and fund innovative programmes to prevent dating violence and eradicate domestic violence as a whole as well as to foster the development of safe alternatives in local communities.
The 22-year-old was actually into modelling before taking up pageantry. While attending Mae's Primary School in Georgetown at eight years old, she participated in her first fashion show and enjoyed every minute of it. Growing up in a Muslim family meant that pageantry and modelling were somewhat taboo, but she pursued them after realising she had developed a love and flare for fashion and the enjoyment it brings after every show. She officially started pageantry about four years ago. "Pageantry gives me the confidence and determination to realise my dreams as well as the opportunity to be a role model, a voice for the voiceless and a better person overall," she expressed.
She noted that all over the world, pageantry has a stigma of exploiting women, but denied that this notion is true. "Pageantry give us, especially me," she said, opportunity like no other. You gain poise, self-confidence, new talents and valuable communication skills. You feel good about yourself and gain the competitive edge to succeed later in whatever field you may choose…"
She won her first crown as Miss India DC 2010. "I remember telling my mom that I will win the Guyana crown one day and make Guyana proud," she said.
Since 2010, she has participated in several pageants over the years and fashion shows in Miami, New York and California. She was the first runner-up and Miss Photogenic for the 2010 Miss India USA Pageant, Miss Teen Virginia in 2011, Winner of Top Model Virginia and Top Model USA in 2010 and 2011 amongst other titles.
The ethos of the Miss World Organisation is beauty with a purpose, which is the main reason Rafieya chose to participate. Her purpose is spreading awareness on the initial signs of domestic violence, as it is a personal journey for her. She feels motivated by her own experiences and the determination to make a difference in the lives of young people. She rightfully feels that the crown makes her an ambassador of Guyana, which enables her to campaign not only nationwide but worldwide as well.
"I am honoured to be an ambassador for Guyana and to represent Guyana on an international platform," she said. "I am motivated by my family and my supporters who have faith in in me and I will continue to work and dedicate my efforts to promote Guyana and my charity [and] make a difference in the lives of others. Educating young people on the preventative and corrective methods of certain behaviours is building a new generation for the future."
During the months leading up the local pageant, contestants were tasked to represent one of Guyana's ten administrative regions and market its resources and tourism potential.
Rafieya represented the region of her birth, Pomeroon-Supenaam and was fortunate to be able to visit her extended family there. Apart from the social visits, Rafieya embarked on her platform. She taught about the initial signs of domestic violence in teens when she visited schools, taking awareness to the children. She also visited hospitals and government offices where she shared her vision and her goals in this new journey. When representing the region Rafieya also highlighted some of the tourist areas and met with some of the women leaders in the communities.
"I will continue visiting schools and campaigning for my cause in the next few months," she promises. "As a young woman I am still learning much about myself and the world. This pageant continues to build my character and define my role and purpose. I am only at the checkpoint of this journey where the benefit will ultimately be priceless as I make a difference in the life of others."
Rafieya's inspiration, idol and role model is her late grandfather Shaffeek Mohamed Khan. She spoke fondly of him, noting that he was a very respected leader in both the political and religious communities.
She said her granddad worked for the people and volunteered many hours to help the poor and needy. He raised a lot of money for charity.
He opened a primary and a high school for the children in the community. He raised funds by collecting donations so that the children who couldn't afford it could have a chance to attend school. He was the Regional Executive Officer for Region Two and was later at the Ethnic Relations Commission.
"He was for the people and with the people. I admire his strength, his bravery and his willpower to make a difference in the lives of others. I am fortunate to have had him in my life as a tower of strength and an inspiration to live my life with purpose," she said.
Rafieya has acquired a plot of land and a building for an outreach centre in Region 2. Renovations are underway and once completed the centre will serve as a resource for all domestic violence survivors.
Rafieya also admires the current Miss World Megan Young, whom she said, does her job effortlessly and continues to make such a great impact on the world by just being herself.
Winning the first ever Humanitarian Award for Beauty with a Purpose in her homeland Guyana is what Rafieya said is her most accomplished prize to date. This, she believes, will better prepare her for the pageant in London.
Rafieya is currently in preparation for the international pageant which is just three months away. She cannot wait for London. "My angle is to ensure I am well prepared and presented in an effort to make Guyana proud," she said. "I believe that to make an impact at the Miss World Pageant in London I would not only need to be prepared well but I would also need to have my country behind me as fans, well-wishers, sponsors and the media. I am fortunate to have a great team that has been supporting and guiding me since I received the crown and I am honoured to have them by my side in London."
She is working towards a BA in Marketing at Marymount University.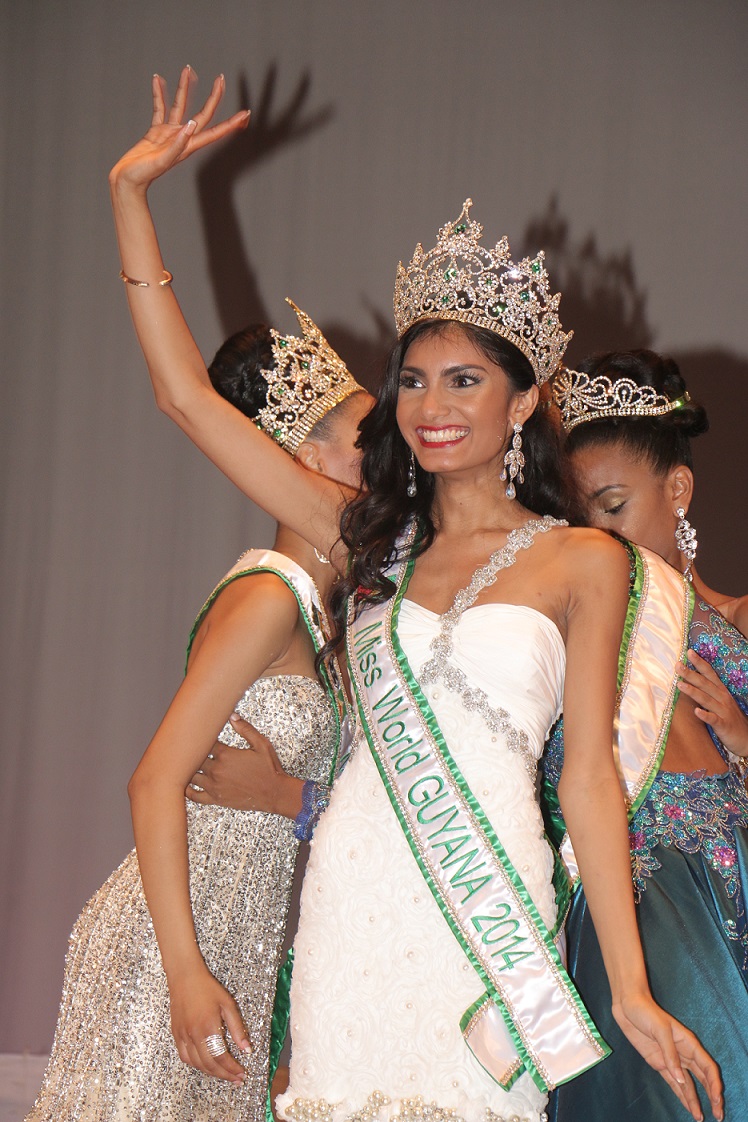 Around the Web