The Region Six Democratic Council has to once again dig deep into its coffers to repair another one of its excavators which was recently vandalized.
This comes less than two months after one of its machines was damaged in Sandvoort Village West Canje Berbice at the hands of vandals. Earlier this week, unknown person(s) removed the batteries and starter among other parts from another excavator belonging to the RDC, which was being used at Bengal Farm on the Corentyne to do drainage and irrigation work.
"Our machines are being vandalized. First, one of our big excavators that we have that would normally clean trenches for drainage and irrigation – the one at Sandvoort was vandalized", bemoaned Regional Chairman David Armogan who disclosed the first damaged excavator is yet to become operable "because we can't get the parts for it".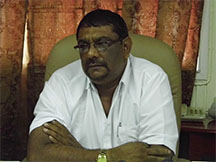 Now a second damaged excavator has been added to the first one. "Another machine, another excavator they go away with the starter, the alternator and they took away all the batteries". Expressing frustration at the situation, Armogan said "these machines are there to assist farmers and I don't know if nobody is seeing, nobody is seeing when these things are being carried away". He noted sourly that though residents claim to not know who and when the machines are being vandalized, they however know "when the machines are not available to do their work" and complain bitterly.
The acts of vandalism are putting a financial strain on the regional administration that has to now find some $1M to repair both excavators. According to the regional chairman, his administration has to cough up some $300000 to replace the starter, batteries and alternator for the damaged excavator. The first one suffered more damage and some $700000 was needed because some major components were damaged. "We can't find this money to be putting into this thing all the time. It is not fair for people who are getting benefits from these machines to be damaging it".
Speculating on who could be behind the vandalism, Armogan said "when you look at it, the very people who are getting the benefits out of the machines because they too have similar machines they will buy the stuff from people who are involved in these illegal activities". He therefore cautioned persons about buying stolen articles and made an appeal to residents, especially persons who own similar machines, "if people come around to sell you it, especially people who don't have stores, please report it to us so that we can get back our stuff".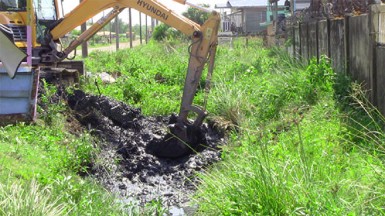 The RDC is trying its best to recover its missing machine parts, because as the chairman puts it, "the parts have to come in from abroad and so it has implications for money and it has implications for time". He also appealed for communities to be vigilant and be watchful of machinery placed in their locations to "ensure the safety of these machines; because over time, if we continue to get this level of attacks we are having on these machines I don't think in another couple of months we will have any machines in Berbice to assist people".
Around the Web